Indian: Bollywood Brass Band | UK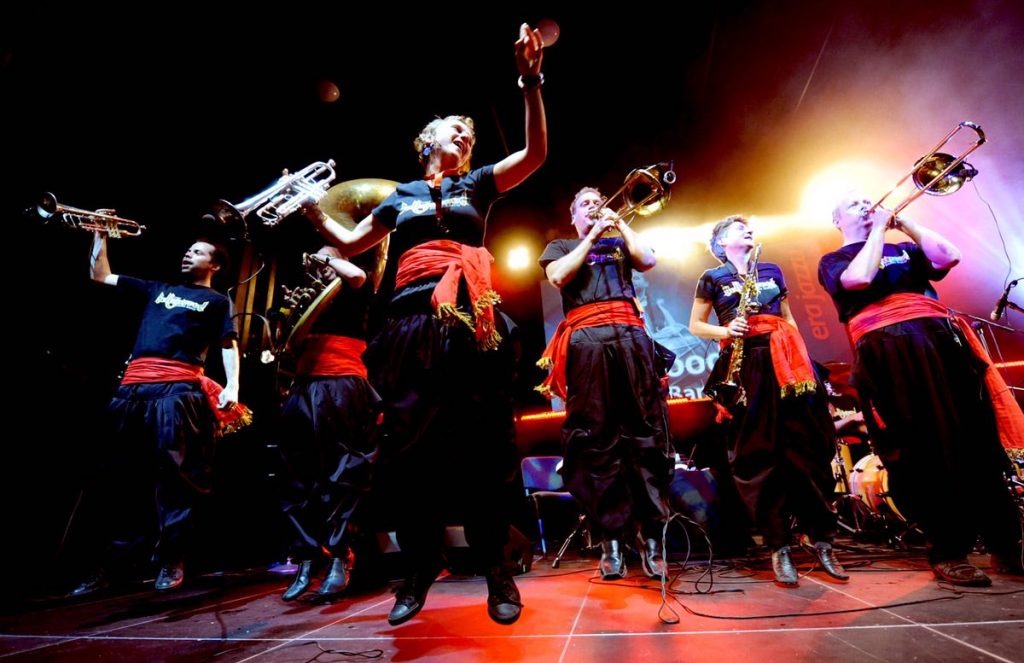 The Bollywood Brass Band is Europes first Indian wedding brass band.
10 + musicians playing saxes, trumpets, trombones, sousaphone, snare and bass drums and featuring drummers from The Dhol Foundation playing dhol, the loud and exciting Punjabi drum played in Bhangra music.
The Bollywood Brass Band performs at weddings, world music and street music festivals and cultural festivals (Diwali, Milad, melas). The band was formed in 1992 to perform with the Shyam Brass Band from Jabalpur, India, at the International Festival of Street Music in London.
Since then they have created a uniquely London blend of Hindi film hits, Bhangra rhythms and brass arrangements with influences from jazz, other world music and the thriving UK dance remix scene. The repertoire includes classic and current film hits, Punjabi folk songs, tunes by the great Gawwal Nusrat Fateh Ali Khan and many wedding songs.
Standard Length of Performance:
90 mins total in 2-4 sets with breaks eg 2 x 45, 3 x 30 or similar.
Testimonials:
"From beginning to end the Bollywood Brass Band were immensely impressive."
– Xplosiv.no
"The band were great – a pleasure to deal with, theyre consummate professionals."
– Walk the Plank
"I look forward to working with you again!"
– London Borough of Tower Hamlets
"Thanks for all your help at the wedding – many thanks."
– Sonia Lidder
"The band really was the icing on the (cup) cake…"
– Tamasha Theatre Company
"It was a magical evening as Manish interpreted the drama of a circus in his own signature style."
– India.com
"…the show left the audience only wanting for more."
– Private Client
"Rarely, if ever, has such a grand finale been witnessed at the fashion week."
– New Kerala.com
"…music was the soul of the show. Bollywood Brass band of London played foot tapping Bollywood numbers through out…The music was so infectious [it] kept the audiences humming, tapping and clapping all through the show"
– The Times of India
Previous Clients Include:
St Marks Square
Venice Carnival
Rudolstadt Festival
Bridgewater Hall
Kaustinen Festival
Thames Festival,
Druga Godba Festival
WOMAD, UK
Tulip Festival
Festival de la Merce
Ignite!
Sydney Olympic Stadium
Sziget Festival
London Mela, Roskilde Festival
Photos of Bollywood Brass Band