Ice Designs – Ice Carving Workshops | UK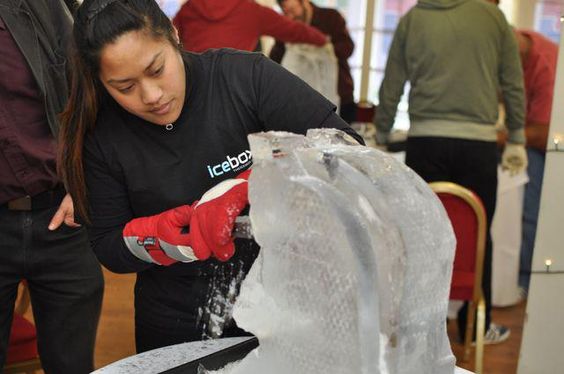 Ice Designs offer a unique team building activity, giving you the opportunity to try your hand at ice carving. Accommodating from 2 to 200 guests per session, this is an innovative team building exercise that your team or clients will be thrilled to take part in.
There is no better way to get people working together than when they have to agree on a creative outcome and bring it to fruition quickly. Ice carving is something that can be done by anyone – all you need to do is bring along enthusiasm and excitement for learning something new.
The Ice Designs' professional ice sculptors travel to you and provide all the necessary materials. On arrival guests are given instruction by the Ice Designs team on ice carving techniques and the task ahead. Working in groups of 2-4 and against a tight timeline, guests have to learn to work together, listen to each other and be creative.
Standard Length of Workshop: Approximately 1 hour per workshop.
Previous Clients Include:
American Express
Barclays
Royal Bank of Scotland
Elizabeth Arden
LOreal
Lexis PR
Brit Awards
Bafta Awards
Elton John
Stella McCartney
Sting
Pierce Brosnan
Ozzy Osborne
Smirnoff Ice
Absolut Vodka
Bacardi Martini
Coors
Grey Goose
Glenfiddich
Innocent Drinks
Red Bull
Moet Hennessy UK Ltd
Coca Cola
Lipton Ice Tea
Dasani
Disney
Ministry of Sound
Canon
MTV
Levis
Diesel
Warner Brothers
BBC
Channel 4
Channel 5
ITV
Photos of Ice Designs