Hogarth Halloween Characters – Walkabout Characters | UK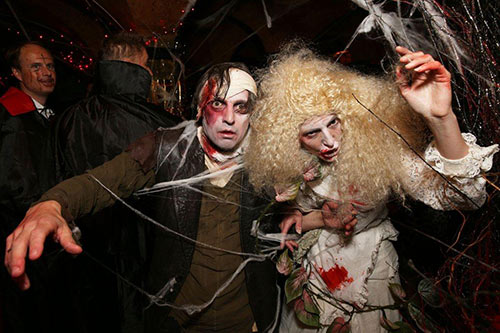 Hogarth actors are the come-to collective when ever your event needs a spark of energy warmth and welcome created by meet and greet mix and mingle characters. With a fifteen year history of creating comic and entertaining characters from gangsters and molls to comedy FBI characters, aristocrats to spoof guests, wacky waiters and XXX Hogarth are able to take any brief or theme and bring it to life.
They can create historical characters, accurately researched if necessary such as Queen Elizabeth1st, Queen Victoria, Charles Darwin, HG Welles, Shakespearian characters and Dickens characters such as Fagin and the Artful Dodger.
They can, and have created many fantasy characters, such as wizards and aliens – even the caterpillar from Alice in Wonderland!
The team can create their performances and interactive characters in response to the themes of the event, whether it is based of a historical era, colour, books or films and enjoy being asked come up with inventive ways to entertain the guests.
The team can create scripts for bespoke sketches, comedy scenes, comedy fight sequences, short pantomimes, historical spoofs, fake police raids and serious presentations and regularly integrate information provided from the client to make the performance truly bespoke.
Their extensive wardrobe and prop store allows them to provide a wide range of high quality props and costumes from any era, including many hand made costumes.
People regularly say to Hogarth: "We're having this event – have you got any ideas…?" We specialise in answering that question with an original, entertaining and tailor made performance.
Characters Include:
The Living Dead
Risen from their dusty graves and wandering through the venue, the walking dead hold sorrowful secrets – could you be their salvation. Once you've met them you'll never forget them. Excellent meet and greet, mix and mingle
Dracula and his Lady Vamp
A black comic element. The most elegant Highclass Vampire & his vixen, accomplice and over who seductively select their next victim. With just a bite of humour… Excellent meet and greet, mix and mingle
Priest and Twisted Sister of Mercy
The Priest and his sister Mary Amnesia, who crashed into a convent and lost her memory, deliver a good dosage of tongue in cheek, and a somehow skewed view on confessionals & re-inventing the 7 deadly sins! When you've met them you'll just wish you we're more sinful! Excellent meet and greet, mix and mingle.
Head in a Box
For any Horror, Halloween or Spooky theme, engage the ugly hunchback Horace to wheel around his box. The surprise is that inside the box, is the living head of his wife Esmeralda. They entertain the public, not least by encouraging the 'grape in the mouth' game.
Standard Length of Performance:
The performances can be adapted according to the client's requirements.
Testimonials:
"Thank you so much. Please pass on our huge thanks to the actors who came to our party last night. They were all absolutely amazing and just made the party. I hope they enjoyed the night as much as we did. Once again, thank you for organising the actors, and please let them know they were exceptional."
– Private Client
"Edmund and Anna were fantastic at the events. They really added an extra dimension to the sessions."
– Sita UK
"Anna was great – everyone loved her at the interactive caterpillar she performed brilliantly"
– Marryat Ltd
"The guests were extremely entertained by the actors, especially the ones at The Robin Hood."
– Spirit Pub Company
"The story teller was amazing. He made the most of the facilities given to him and he was a pleasure to work with. Without doubt, if we ever need a story teller for future events he would be a perfect candidate for sure. I appreciate your efforts in helping us with this event and I have no doubt Beatwax will be demanding your services again in the near future!"
-Beatwax
"Just wanted to drop you a line to say the actor's at Scott's b'day (think Abi organised them) on Saturday night went down a storm, they were brilliant. When everyone found out they were gobsmacked that they had been so sucked in!! Would definitely use them again for another event, worked so well."
– Anglo Irish Bank Corporation Ltd
"The actors were the perfect mix of outlandish and subtle – and the actress who played Anna was especially superb! I think our dinner party has become the talk of the Putney social circuit and its one people won't forget for a while. Only downside is that I suspect a fair number of our friends are plotting their revenge!!! Thanks again – it was a perfect evening. Please pass on my thanks to the actors."
– Private Client
"Just a little note to say a huge thank you to you and your team for helping us make Orange Cinema – A Night of Fright – a huge success. Look forward to working with you on the next event."
– M&C Saatchi Sport & Entertainment
"Thank you so much for the most fabulous bunch of entertainers organised for our client party last week – what a great group of people! … Ed and 'the boys' (I love the fact that Clive is now off at Harrods as Father Christmas!) – don't know how we could use them again, but I'm sure we'll find a way. Lovely people, lovely evening, all just lovely! Please do pass on my belated but sincere thanks to them all. It can indeed only be described as a legendary night. Thoroughly enjoyed it. Clients had a cracking time. Debi – as ever, a truly fantastic party last night. This is simply to thank you for an excellent party last night."
– Fishburn Hedges
"Saturday went well, I was delighted. The caterpillar was just great – really liked her banter and she was very helpful, prompt and accommodating."
– Mirage Events Ltd
"The guys were fantastic – provided a great stunt, and worked the theme and messaging of the show in very well."
– House PR (via Contraband)
"The guys were amazing they really added to the event and had lots of great comments from guests. Many thanks for all your help and I look forward to working with you again."
– Event Concept Ltd (via Contraband)
"The performers were absolutely brilliant! The public loved the actors and it brought a lovely element to the day.  They were also very helpful and handed out a number of our guided walks brochures. Please pass on my thanks and regards!"
– London Borough of Bromley (via Contraband)
"The nativity play was fabulous!  The guys were really good at getting the public involved and creating an unexpected element in the town centre!"
– London Borough of Bromley (via Contraband)
"The entertainment was fantastic and so many people commented on this…Thank you!!…"
– The Brewery by EC&O Ltd (via Contraband)
"A very special thank and bravo to Anna and Edmund as they were fantastic and were really good actors! The client loved their game and the way they worked their roles! They were absolutely fabulous! Once again, thank you, and you can be sure that I'll get in touch with you for any other event we'll have!"
– Tumlare Corp (via Contraband)
"The event was a great success thank you and the client was very pleased! Gog and Magog actors were both incredibly polite – so flexible, understanding and helpful. Please give them my thanks. I was very impressed with their laid back approach and willingness to work around the clients changing requirements on the day. Once again, thank you very much."
– CH&Co (via Contraband)
"The quality of performers was excellent and they were all very helpful and co-operative given the atrocious weather we had on occasion. Everyone turned up on time and were lovely."
– London Borough of Bromley (via Contraband)
"They were incredible! We absolutely loved them and they did a fantastic job. The guests were singing their praises after the event. Please can you pass on our praises and we look forward to working with you again soon."
– Quintessentially Events Ltd (via Contraband)
"Hula Hoop, Juggler & Heritage Actors – Amazing and firm favs here in the office. Very accommodating and a real pleasure to work with."
– London Borough of Bromley (via Contraband)
"Positive feedback all round, so again pass on my thanks to the guys."
– Kream Comms Limited (via Contraband)
"Yesterday went really well and Lenny was great. He fulfilled the role we wanted him to exactly, he got the balance right between keeping it light and also helping to manage the flow of the day. Please pass our thanks onto him!"
– Beaver Communications Ltd (via Contraband)
"Many thanks for getting in touch. The event was a great success and part of that was down to the great work of Anna and Rachel. Anna was a great asset to the event, she was extremely enthusiastic and worked the crowds very well. She picked up the key points very fast and presented and demonstrated the product with great confidence. The overall feedback from the staff and consumers was that Anna made a big impact to the event, she was engaging with  the audience and was full of energy throughout the show."
– AMG Group Ltd (via Contraband)
"….Thank you for your assistance with the 50 Year Celebration last week. The event was very successful, and all the guests had a fun and entertaining night and we've had great feedback from our clients. Thanks for your help with all the aspects you were providing us with. The stilt walkers looked great when welcoming all of the guests into the venue. They especially looked the part with their amazing costumes! I can say the same for the periodic actors too. They all looked great and really mixed into the party well, and getting involved with lots of photographs! The green screen was also a fantastic addition to the celebration…..We really appreciate all your hard work, not just last week, but over the past few months to ensure that the night was a success. …"
– Imagination Group Ltd (via Contraband)
"Thank you so much for organising last week's actors. Edmund and Ana were both fab! All the members thought they were great and added an extra something to the evening! I believe a lot of members also very much enjoyed getting involved! We often use actors at our big events in Annabel's so will definitely keep you in mind for next time."
– Annabel's Ltd (via Contraband)
Previous Clients Include:
Microsoft
BT
Oracle
ING Direct
Prudential
Barclays
PWC
Verizon Business
Punch Taverns to name but a few
Grosvenor Park Lane
The Brewery
Barbican
London Eye
London Aquarium
Crowne Plaza
Dorchester
Radisson
Photos of Hogarth Halloween Characters