Hire A Granny! – Comedy Walkabout Act | UK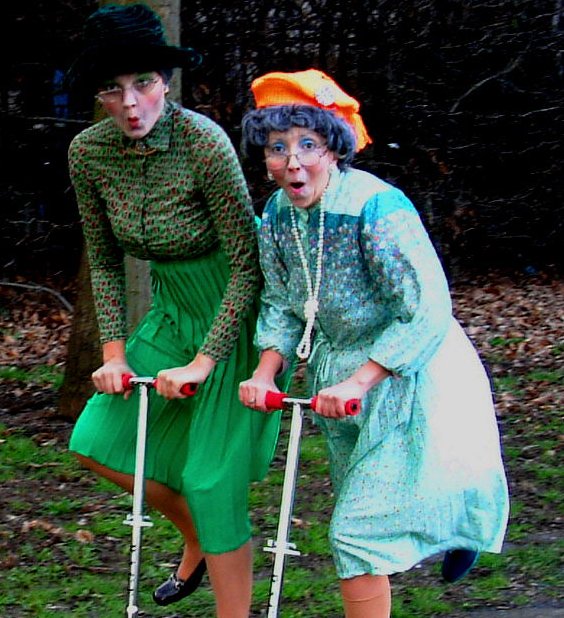 Gladys and Edith are bright as buttons and sharp as razors, they happily bimble their way through the chaos of modern life. Naïve and critical as only a granny can be, they tackle tricky issues head on, such as the state of fashion, the price of corn plasters and the attitude of modern youth.
Fast becoming media darlings, they have appeared at many glamorous events including tree plantings, juggling conventions and corporate soirées. They have been filmed by the BBC singing the National Anthem for the Queen's Golden Jubilee, and have regaled listeners with their memoirs live on air for BBC Local Radio. They have also spent many an entertaining day riding their way around Chessington World of Adventures. They have even been spotted in a rather inebriated state rediscovering their hippy roots at the Glastonbury Festival. "Where next?" you ask!
Old in years but young in spirit and with more energy than the local electricity board These grannys are an endearing mix and mingle comedy duo guaranteed to amuse all ages, often bursting into song, body popping and causing havoc whizzing around on their scooters.
They love nothing more than having a natter and of course a nice cup of tea, why not invite them to have a natter with you and your guests?!
They are also available as fairy godmothers.
Testimonials:
"They were all fantastic and really made for a great party. They did not stop and were all really popular with the different age groups that we had at the party. The combination was just right and thank you for organising them. I would work with any of them again"
- Private Client
Previous Clients Include:
BBC
Queen's Golden Jubilee
BBC Local Radio
Chessington World of Adventures
Glastonbury Festival
Photos of Hire A Granny!