Harriet – Acoustic Harpist | UK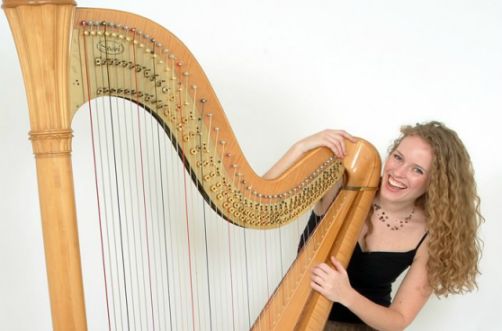 Harriet was an Instrumental Exhibitioner at Balliol College, Oxford where she read music. Before this she was a student of Daphne Boden at the Royal College of Music Junior Department where she was successful in many competitions. She continued her studies with Imogen Barford at Trinity College of Music, supported by awards from the Musician's Benevolent Fund, the Countess of Munster Musical Trust and the Martin Musical Scholarship Fund.
As a soloist she has given many recitals at major London venues including St Martin's-in-the-Fields, and she played at St James's Palace for a celebration of the Queen Mother's 100th birthday. In the past year she has appeared at the Swaledale Festival, toured the Mediterranean aboard the QE2, performed the Debussy Dances with the Dart Festival Orchestra, and the Mozart Flute and Harp Concerto with the Ten Tors Orchestra. As part of her award from the Martin Musical Fund, in 2004 she toured with the Unicorn Theatre Project / Philharmonic Orchestra for their production of the opera Clockwork, culminating in performances at the Linbury Studio Theatre, Covent Garden. She also travelled to Lebanon with the Young Janacek Orchestra as Principal Harp. Most recently she was awarded 2nd Prize at the hotly contested 2005 London Harp Competition and also performed with the Philharmonic Orchestra in Seville.
Harriet enjoys composing and has written several solo and chamber works. She has had music performed by the Girl Choristers of Exeter Cathedral, at The Two Moors festival, and her critically acclaimed composition, 'Sun, Moon and Stars' for harp quartet, was selected for performance at the 9th World Harp Congress this year.
A keen chamber musician, she is a member of the Swan Duo with cellist Jessica Burroughs and plays in an oboe and harp duo with her sister Caroline Adie. Both duos have done concerts as part of the Countess of Munster Recital Scheme. She is also a member of the award-winning Four Girls/Four Harps, whose music has been broadcast on Classic FM and BBC Radio 2s Friday Night is Music Night series. They have played at many prestigious venues such as St James's Piccadilly, St George's Bristol and were invited to perform at the 9th World Harp Congress in Dublin last year.
Standard Length of Peformance:
Up to 4 hours with breaks
Testimonials:
"It just made the moment when we arrived and walked outside and heard you playing."
– Private Client
"Your harp music created a wonderful ambience for the evening."
– RHS Rosemoor
"How can I thank you enough for the wonderful playing both at the church and the reception…the guests were overwhelmed and thoroughly enjoyed your performance."
– Private Client
"I would like to thank you very much for the lovely lunchtime recital last Friday. We all enjoyed it and everyone appreciated the valuable information you gave us about the harp…I have had some most positive feedback from the audience, and they hope you will be able to come back again."
– Gosport and Fareham Music Society
"Harriet Adie's range of technique and tone were notable."
– Herts and Essex News
"Sun, Moon and Stars `A Middle Eastern Sky by Harriet Adie was very enchanting. Depicting a childhood in the far-east, beautiful textures combined with eastern scale and harmonies, it was quite spellbinding."
– This is Herefordshire
"A most accomplished performer."
– Sioned Williams, Principal Harp, BBC Symphony Orchestra; Board of Directors, World Harp Congress
"The music was a perfect backdrop for the setting, and we received very positive feedback from our guests with regard to Harriet's performance. Not only did she play very well, but was timely, professional, and looked very elegant. I would be very happy to recommend her."
– Richard Davies Investor Relations
"The brilliance and artistry of your playing was astounding and much enjoyed by all present."
– Curry Rival Music Club
"Once again, thank you very much for your playing last night. It really lifted the choirs performance and contributed enormously to the success of the evening. I hope we may have the opportunity of working together again."
– Conductor of the City of London Chamber Choir
"We will definitely be recommending you to friends."
– Private Client
"Everyone that I spoke to thought that she was great and that it created a lovely ambience as the guests arrived…"
– Atos (via Contraband)
Previous Clients Include:
Chameleon Arts Management
The Barbican Gallery
The Dorchester
Kai Restaurant
The British Library
Landmark Hotel
Four Seasons Hotel
Reubens Hotel Karen Hennell
The Royal Berkshire Hotel
The Rendevous Casino Club
Australia House
Fisher Meredith Solicitors
The Savoy
Fabric
Kai Restaurant
Thursford Christmas Spectacular
Claridges
Repertoire Includes:
Classical:
Bach – Prelude in C, Air on the G String, Jesu Joy of Man's Desiring, While Shepherds Watch, Andante from Violin Sonata no 2
Schubert – Serenade
Boccherini – Minuet
Pachelbel- Canon in D
Delibes – Flower Duet (British Airways theme)
Handel – Water Music, Concerto in B flat, Largo
Purcell – Trumpet Voluntary
Clarke – Trumpet Voluntary
Mozart – Flute and Harp Concerto
Bizet – Carmen, Pearlfishers duet
Grieg – Music from Peer Gynt
Bellini – Music from Norma
Verdi – Music from Rigoletto
Offenbach – Barcarolle
Puccini – Music from La Boheme
Beethoven – Moonlight Sonata
Debussy – Clair de Lune, The Girl with the Flaxen Hair
Mendelssohn – Bridal Chorus
Wagner – Wedding March
Satie – Trois Gymnopedies
Vivaldi – Music from The Four Seasons
Rachmaninov – 18th Variation from Rhapsody on a theme of Paganini
Popular:
Robbie Williams – Angels, She's the one
Snow Patrol – Run, Chasing Cars
Coldplay – Clocks, Yellow
Elton John – Your Song
UB40 – Can't help falling in Love
Elvis Costello – She
Jeffrey Osborne – On the wings of Love
Seal – Kiss from a Rose
Luther Vandross – Dance with my father, Your secret love
Joe Cocker – Love lifts us up where we belong
The Bangles – Eternal Flame
Celine Dion – Because you loved me, Titanic theme tune
Take That – Greatest Day, How deep is your love
Rod Stewart – The way you look tonight
Paul Desmond – Take Five
Burt Bacharach – They Long to be Close to You, What the world needs now is love
Richard Rogers – Blue Moon
Jaques Prevert – Autumn Leaves
Erroll Garner – Misty
Carlos Jobim – The Girl from Ipanema
The Beatles – Yesterday, All you need is love, Let it be, Here comes the sun, Here there and everywhere
Katie Mellua – Crazy
Van Morrisson – Brown Eyed Girl
Eric Clapton – You look wonderful tonight
Gershwin – Summertime, Embraceable you, I've got a crush on you, I got rhythm, The man I love, Someone to watch over you
Cole Porter – C'est magnifique, Ev'ry time we say goodbye, I get a kick out of you, I've got you under                     my skin, Let's do it Let's fall in love
Andrew Lloyd Webber – Cats, Evita, Starlight Express, Phantom of the Opera
Jeff Silbar/Larry Henley – The Wind Beneath My Wings
Christina Aguilera – Beautiful
Theme tune from The Deer Hunter
C. Carson Parks – Somethin' Stupid
Scott Joplin – The Entertainer
Alex North – Unchained Melody
Frank Sinatra – Fly Me to the Moon
Somewhere over the Rainbow
Moon River
Louis Armstrong – What a wonderful world
Film music – Love Actually, Pride and Prejudice, Emma, Sense and Sensibility
Musicals – West Side Story, The King and I, Les Miserables, Grease, The Sound of Music
Westlife – Mandy
James Bond – You only live twice, From Russia with Love, Diamonds are forever
The Carpenters – We've only just begun
Lonestar – Amazed
Sting – Fields of Gold
Photos of Harriet