H S Trio & Quartet – Acoustic & Electric Strings | UK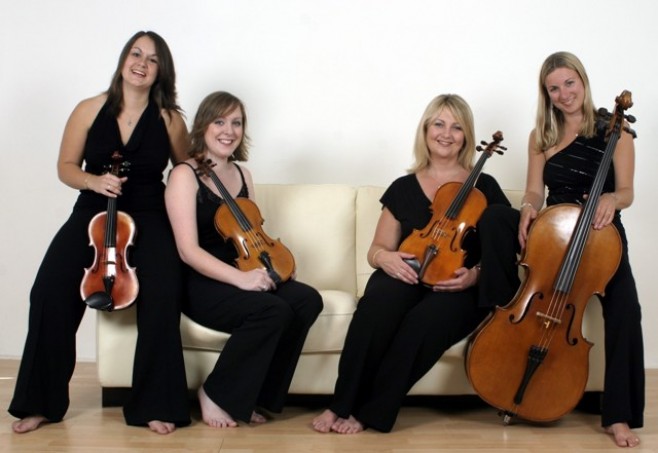 H S Trio and Quartet
The H S Trio and Quartet are a vibrant, all-female ensemble of professional string players, each of whom have studied at London's most prestigious music conservatoires; The Royal College of Music, The Royal Academy of Music and The Guildhall School of Music. The girls are available to play as a trio and as a quartet.
The H S Trio and Quartet can perform either acoustic or electric string sets as a trio or a quartet. They perform from an eclectic repertoire encompassing classical, romantic, jazz and pop which has wowed guests at weddings and corporate functions since 1997. They are recognized as a well-established trio and quartet in London and the Midlands, where they originally formed.
Members of H S Trio and Quartet have played with prestigious orchestras such as The BBC Symphony Orchestra, the Royal Philharmonic Orchestra and the Royal Scottish National Orchestra. Individually they have played in concert and on television with Will Young, Simply Red, Robbie Williams, Il Divo, Paul Young, Rod Stewart and Elton John.
The H S String Trio and Quartet has performed at corporate functions in some of the country's finest venues including Tower Bridge, Woburn Abbey, The Royal Courts of Justice and Burghley House. The group has also played in Europe and the Caribbean.
Set Times
Performances can be broken down into trio or quartet sets lasting between 30 minutes and 4 hours.
They have an extensive repertoire for both acoustic & classical performances; please view their technical specification at the bottom of the page for the full list.
With their all-encompassing repertoire the trio and quartet can accompany drinks receptions with classical sounds or entertain hundreds of guests with its multitude of arrangements of more popular artists. They are available individually, as a group or can organise a string orchestra of any size if required.
For an electrical set, the girls can create a fantastic sound via their 300w amps, but they can also plug into a PA system for larger venues.
Testimonials:
"What a terrific concert. Thank you all so much for giving us such an enjoyable evening. "
– Coordinator, 'Music in the Great Hall'
"Many thanks for the beautiful music. H S Quartet made the drinks reception completely enchanting."
– Private Client
"Thank you for performing an excellent variety of music for our wedding…you made the ceremony even more special. All our guests commented on how much they enjoyed hearing you play. "
– Private Client
"Thank you for such a fantastic performance at Hambleton Hall… It made the day.
– Private Client
"Our great day was made all the more special because of H S Quartet. If we are ever in the UK and you were performing we'd come and see you…failing that we'll have to get you all over to Guernsey again one day! "
– Private Client
"Having played the violin as long as I did I feel qualified to say "You were brilliant". We couldn't thank you enough if we tried! "
– Private Client
Previous Clients Include:
Coutts & Co Bank
BBC
European Sponsorship Committee
Mercedes-Benz
A1GP World Cup of Motorsport
English Heritage
HSBC
John Lewis
Boots
Proctor & Gamble
Alliance & Leicester
British Business Awards
National e-Science Centre
Royal Air Force
The Ministry of Defence
Capital One
Repertoire Includes:
Classical
Arioso – Bach
Arrival of the Queen of Sheba – Handel
Ave Maria – Bach ~ Gounod
Ave Verum Corpus – Mozart
Badinerie – Bach
Barber of Seville – Rossini
Brandenburg Concerto No. 3 – Bach
Canon – Pachelbel
Chaconne – Purcell
Concerto for Two Violins – Bach
Divertimento No. 1 – Mozart
Divertimento No. 2 – Mozart
Divertimento No. 3 – Mozart
Eine Kleine Nachtmusik – Mozart
Excerpts from the 'Four Seasons' – Vivaldi
Fur Elise – Beethoven
Hallelujah Chorus (from 'The Messiah') – Handel
Hornpipe from the Water Music – Handel
Jesu, Joy of Man's Desiring – Bach
La Rejouissance (Music for the Royal Fireworks) – Handel
Minuet in G Major – Beethoven
Musica Notturna di Madrid – Boccherini
Nimrod from Enigma Variations – Elgar
Nutcracker Suite – Tchaikovsky
Ode to Joy – Beethoven
Orchestral Suite No 3 – Bach
Pachelbel's Canon in D – Pachelbel
Panis Angelicus – Franck
Passacaglia – Handel
Pavane – Faure
Piano Concerto No 1 – 'Andante' – Mozart
Piano concerto no. 21 (Andante) – Mozart
Prelude from 'Te Deum' – Charpentier
Prince of Denmark's March – Clarke
Radetzky March – Strauss
Rondo alla Turca – Mozart
Sheep may safely Graze – Bach
Sleepers Wake – Bach
Spring from the 'Four Seasons' Violin Concertos – Vivaldi
Stabat Mater Dolorosa – Pergolesi
Tambourin – Gossec
Trumpet Tune in D – Purcell
Trumpet Voluntary – Clarke
Tuba Tune in D major – C S Lang
Wachet Auf – Bach
Water Music Extracts – Handel
Where e'er you walk – Handel
Romantic
Arabesque No 2 – Debussy
Ave Maria – Schubert
Ballet from 'Petite Suite' – Debussy
Barcarolle – Offenbach
Bolero – Ravel
Bridal Chorus (Here Comes the Bride) – Wagner
Bridal Procession – Grieg
Chanson de Matin – Elgar
Chanson de Nuit – Elgar
Clair de Lune – Debussy
Con te Partiro – Sartori
Czardas from Coppelia – Delibes
Czardas from Swan Lake – Tchaikovsky
Dance of the Sugar Plum Fairy – Tchaikovsky
Dance of the Swans – Tchaikovsky
Danse des Mirlitons – Tchaikovsky
Danse Espagnole – de Falla
Danse Espagnole – Granados
Ecossaise – Schubert
Espana – Chabrier
Flower Duet from 'Lakme' – Delibes
Golliwog's Cake Walk – Debussy
Gymnopodie No 1 – Satie
Hoe Down (from 'Rodeo') – Copland
Holberg Suite – Gavotte – Grieg
Holberg Suite – Prelude – Grieg
Humoresque – Dvorak
Hungarian Dances (various) – Brahms
In the Hall of the Mountain King – Grieg
Intermezzo (from the ballet 'Sylvia') – Delibes
Intermezzo from 'Carmen' – Bizet
Intermezzo from 'Cavalleria Rusticana' – Mascagni
Jupiter (Theme from Planets) – Holst
Knightsbridge March – Eric Coates
Love theme from Romeo and Juliet – Tchaikovsky
March Militaire – Schubert
Mazurka from Coppelia – Delibes
Meditation (from Thais) – Massenet
Morning from 'Peer Gynt' Suite – Grieg
Norwegian Dance No. 2 – Grieg
O Sole Mio – di Capua
Pie Jesu from 'Requiem' – Faure
Polovtsian Dances 'Prince Igor' – Borodin
Pulcinella – Overture – Stravinksy
Romance (from 'The Gadfly') – Shostakovich
Salut D'Amour – Elgar
Seguidilla from 'Carmen' – Bizet
Sicilienne – Von Paradis
Skater's Waltz – Waldteufel
Slavonic Dances – various – Dvorak
Sleeping Beauty Waltz – Tchaikovsky
Spanish Dance – Moskovski
The Girl with the Flaxen Hair – Debussy
The Swan – Saint-Saens
Thunder & Lightning Polka – J Strauss
To a Wild Rose – Macdowell
Traumerei – Schumann
Trepak (from the Nutcracker) – Tchaikovsky
Valse Lente from Coppelia – Delibes
Violin Concerto-2nd movement – Mendelssohn
Waltz – Grieg
Waltz from Sleeping Beauty – Tchaikovsky
Waltz of the Flowers – Tchaikovsky
Wedding Day at Troldhaugen – Grieg
Wedding March from 'Midsummer Night's Dream' – Mendelssohn
Light Classical
Basse Dance from the Capriol Suite – Peter Warlock
Blue Danube Waltz – Strauss
Can-Can – Offenbach
Cavatina – Myers
Champagne Galop – Lumbye
Chi Mai – Morricone
Clog Dance from 'La Fil mal Gardee' – Herold
Cock Linnet – Collins/Leigh arr. Martelli
Czardas – Monti
Dance of the Comedians – Smetana
Diplomat's Polka – Strauss
Emporer Waltz – Strauss
Entry of the Gladiators – Fucik
Fandango Espagnol – Chabrier
Forgotten Dreams – Leroy Anderson
Funiculi, Funicula – Denza
Gold & Silver Waltz – Lehar
Gopak – Mousorgsky
Irish Rover – Trad
Irish Sherry (incl. 'Danny Boy') – Trad/O'Carolan arr. Martelli
Libertango – Piazolla
Liberty Bell – Sousa
Liechtes Blute Polka – Strauss
March of the Devils – Suppe
Moonlight and Roses – Lemare
Palladio – Jenkins
Pizzicato Polka – Strauss
Plink, Plank, Plunk – Leroy Anderson
RAF March Past – Walford Davies
Roses from the South – J Strauss II
Rule Britannia – Arne
Stars and Stripes Forever – Sousa
The Teddy Bear's Picnic – J.W.Bratton
The Typewriter – Anderson
Washington Post – Sousa
William Tell Overture – Rossini
Opera
Aragonese from Carmen – Bizet
Au fond du temple saint (duet from the Pearl Fishers) – Bizet
Brindisi – 'Drinking Song' from 'La Traviata' – Verdi
Chorus of the Hewbrew Slaves – Verdi
Danse Boheme – Bizet
Excerpts from 'Carmen' – Bizet
Galop from 'La Vie Parisienne' – Offenbach
Give me thy Hand (from Don Giovanni) – Mozart
Habanera from Carmen – Bizet
I got plenty of nothing – Gershwin
Let's call the whole thing off – Gershwin
Marriage of Figaro – Non piu andrai – Mozart
Marriage of Figaro – Overture – Mozart
Marriage of Figaro – Voi che Sapete – Mozart
Nessum Dorma – Puccini
O Mio Babbino Caro – Puccini
Prelude to Carmen – Bizet
Quartet from 'Rigoletto' – Verdi
The Bird Catcher (from the Magic Flute) – Mozart
Three Little Maids (from 'Mikado') – Arthur Sullivan
Jazz
Begin the Beguine – Cole Porter
Close to you – Burt Bacharach
Come Fly with Me – Sammy Cahn and Jimmy Van Heusen
Concerto for Cootie – Duke Ellington
Dancing Cheek to Cheek – Berlin
Doin' the Crazy Walk – Ellington
Embraceable You – Gershwin
Every Time we say Goodbye – Cole Porter
Fascinatin' Rhythm – Gershwin
Fly me to the Moon – Bart Howard
Guantanamera – Pete Seeger
Harry Lime Theme – Anton Karas
I feel Good – James Brown
I Got Rhythm – Gershwin
I Love You – Cole Porter
I'm gonna wash that man right out of my hair – Rodgers
I've got you under my skin – Cole Porter
In the Mood – Glen Miller
It don't mean a thing if it ain't got that swing – Ellington
It's alright with me – Cole Porter
It's de-lovely – Cole Porter
Just another Rumba – Gershwin
La Bamba – Richie Valens
Let's Do It – Cole Porter
Let's Face the Music and Dance – Nat King Cole
Love is Here to Stay – Gershwin
Makin' Whoopee – Donaldson
Misty – Errol Garner
Mr Bojangles – Jeff Walker
Mr Bojangles – Jerry Jeff Walker
New York, New York – Kander
Nice Work if you can get it – Gershwin
On the Sunny Side of the Street – McHugh
Pennies from Heaven – Arthur Johnson
Rialto Ripples – Gershwin
S'wonderful – Gershwin
Satin Doll – Duke Ellington
Second Time Around – Cole Porter
Singing in the Rain – Nacio Herb Brown
Slap that Bass – Gershwin
Somebody loves me – Gershwin
Someone to Watch Over Me – Gershwin
Summertime – Gershwin
Swanee – Gershwin
Take Five – Paul Desmond
Take the 'A' train – Billy Strayhorn
That Certain Feeling – Gershwin
That's Amore – Harry Warren
The Folks who Live on the Hill – Jerome Kern
The Girl from Ipanema – Antonio Carlos Jobim
These Boots are made for Walking – Lee Hazelwood
They all laughed…. – Gershwin
What is this thing called love? – Cole Porter
You're the Top – Cole Porter
Popular
Angels – Robbie Williams
Annie's Song – John Denver
Asleep in the Back – Elbow
Back in the USSR – Lennon & McCartney
Beautiful Day – U2
Beyond the Sea – Trenet
Big Spender – Cy Coleman
Bittersweet Symphony – The Verve
Blower's Daughter – Damien Rice
Bohemian Rhapsody – Queen
Brown Eyed Girl – Van Morrison
California Girls – Beach Boys
Can't buy me love – Lennon/McCartney
Can't take my eyes off you – Crewe & Gaudio
Cannonball – Damien Rice
Chasing Cars – Snow Patrol
Clocks – Coldplay
Congratulations – Martin & Coulter
Crazy for You – Madonna
Crocodile Rock – Elton John
Dancing Queen – Abba
Day Tripper – Lennon & McCartney
Don't Stop Believing – The Journey
Eleanor Rigby – Beatles
Endless Love – Ross & Richie
Everlong – Foo Fighters
Flying without Wings – Westlife
God Only Knows – Brian Wilson
Got to get you into my Life – Beatles
Greatest Day – Take That
Have I told you lately… – Van Morrison
Here Come the Girls – Allan Toussaint
Here Comes the Sun – Harrison
Here, There and Everywhere – Beatles
Hero – Enrique Iglesias
Hey Jude – Paul McCartney
How Deep is your love? – The Bee Gees
I can see clearly now – Stevie Wonder
I can't help falling in love with you – Elvis Presley
I do I do I do – Abba
I Get Around – Beach Boys
I Only want to be with you – Hawker/Raymonde
I Want to Hold your Hand – Lennon/McCartney
I'm into something good – Herman Hermits
Imagine – John Lennon
It Must be Love – Madness
It's all about You – McFly
It's Raining Men – Jabara & Shaffer
Kiss from a Rose – Seal
Let there be love – Lionel Rand
Light my Fire – The Doors
Live and Let Die – Paul McCartney
Love & Marriage – Van Heusen
Love Me Tender – Elvis Presley
Love Story – Taylor Swift
Mack the Knife – Weill/Armstrong
Mamma Mia – Abba
Money, Money, Money – Abba
Moondance – Van Morrison
Moonlight in Vermont – Suessdorf
Mrs. Robinson – Paul Simon
Mustang Sally – Wilson Pickett
Nights in White Satin – Justin Hayward
Nobody does it Better – Carly Simon
Numb – Linkin Park
Numb – Linkin Park
Oh, Pretty Woman – Roy Orbison
One Day Like This – Elbow
Open Arms – Perry & Cain
Penny Lane – Lennon-McCartney
Rule the World – Take That
She ("Notting Hill" soundtrack) – Elvis Costello
Signed, Sealed, Delivered – Stevie Wonder
Son of a Preacher – Hurley/Wilkins
Songbird – Eva Cassidy
Soul Bossa Nova – Quincy Jones
Stairway to Heaven – Led Zeppelin
Stand By Me – Ben E King
Strangers in the Night – Bert Kaempfert
Summer Holiday – Welch & Bennett
Sunny Afternoon – Ray Davies
Sunny Afternoon – Ray Davies
Sway – Dean Martin
Sweet Child of Mine – Guns n Roses
Take a Chance on Me – Abba
Thank you for the Music – Abba
The Chain (Formula 1 Theme) – Fleetwood Mac
The Winner takes it All – Abba
Town Called Malice – The Jam
Truely – Lionel Richie
Try a Little Tenderness ('from 'The Commitments') – Andrew Strong
Unforgettable – Nat King Cole
Viva la Vida – Coldplay
Waterloo – Abba
Waterloo Sunset – Ray Davies
We have all the time in the world – John Barry
What a Wonderful World – Weiss & Thiele
When I'm 64 – McCartney
When you were young – Killers
When you were young – The Killers
Wind Beneath My Wings – Sillbar & Henley
Wonderful Tonight – Eric Clapton
Yellow Submarine – Beatles
Yesterday – Lennon and McCartney
Yesterday Once More – The Bee Gees
YMCA – The Village People
You Raise Me Up – Lovland (Westlife)
You're Beautiful – James Blunt
You're the First, the last, my Everything – White, Sepe & Radcliffe
Your Song – Elton John
Latin American / Tangos
Blue Tango – Leroy Anderson
Cherry Pink – Pablo Beltran
Dark Eyes – Trad.
El Choclo – Villoldo
Habanera – Halffter
Jalousie Tango – Jacob Gade
La Cumparsita – Rodriguez
La Paloma – Sebastian Iradier
Por Una Cabeza – Gardel
Tango – Albeniz
Tomo Y Obligo – Carlos Gardel
Musicals
Anything Goes – Cole Porter
Chicago – Fred Fisher
Consider Yourself – From 'Oliver'
Get me to the Church on Time – Loewe
Happy Talk – Rodgers & Hammerstien
Hernando's Hideaway – Alder & Ross
I Could Have Danced all Night – Lerner & Lowe
I feel Pretty – Bernstein
Leaning on a Lamppost – George Formby
Love Changes Everything – Andrew Lloyd Webber
Music of the Night – Lloyd Webber
Officer Krupke from West Side Story – Bernstein
On the Street where you live – Lerner & Leowe
Puttin' on the Ritz – Berlin
Raindrops keep falling on my Head – Bacharach
Smoke get in your Eyes (from Roberta) – Jerome Kern
Sunrise, Sunset (from "Fiddler on the Roof") – Jerry Bock
There's no Business like Show Business – Irving Berlin
Walking the Dog – Gershwin
Film & Television
Balcony Scene from Baz Luhrmann's Romeo and Juliet – Craig Armstrong
Dambusters March – Eric Coates
Gabriel's Oboe from 'The Mission' – Ennio Morricone
Goldfinger – John Barry
James Bond theme tune – Barry
Jeeves & Wooster theme – Anne Dudley
Mad Dogs & Englishmen – Noel Coward
Moon River – Henry Mancini
Pelagia's Song from Captain Corelli's Mandolin – Stephen Warbeck
Schindler's List Theme – John Williams
Somewhere Over the Rainbow – Harold Arlen
Theme from 'Poirot' – Christopher Gunning
Theme from 'Pride and Prejudice' – Carl Davis
Theme from Love Story – Francis Lai
Theme from Schindler's List – John Williams
Zorba's Dance – Mikis Theodarakis
Ragtime
Country Club – Scott Joplin
Elite Syncopations – Joplin
Entertainer – Joplin
Maple Leaf Rag – Scott Joplin
Paragon Rag – Scott Joplin
Ragtime Dance – Joplin
Hymns – others can be arranged on request
Be still, for the presence of the Lord
Dear Lord and Father of Mankind
Guide Me, O Thou Great Redeemer
Hail Queen of Heaven
How Great Thou are
I am the Lord of the Dance
I Vow to thee my Country
Jerusalem
Lord of all Hopefulness
Love Divine
Morning has Broken
O Jesus I have promised
One more step along the World I go
Praise My Soul
Sing Hosanna
Christmas includes
Chestnuts roasting on an open fire – Torme and Wells
Have Yourself a Merry Little Chrismtas – Hugh Martin
I'm Dreaming of a White Christmas – Berlin
It's Beginning to look a lot like Christmas – Meredith Wilson
Let it Snow – Jule Styne
Mary's Boy Child – Jester Hairston.
Santa Baby – Monroe
Sleigh RIde – Anderson
The Christmas Song – Torme & Wells
Photos of H S Trio and Quartet