Grid Girls – Promotional Hostesses | UK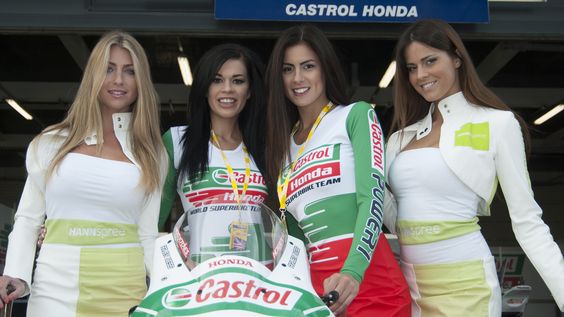 Grid Girls are the most distinct professional promotional model and clothing agency in the UK. Supplying experienced and reliable models, individually screened to make a lasting, positive impression for any event. Within Grid Girls we also have the Grid Girls Babe Squad that are employed for both the World and British Superbike Championships, other race events and many photo shoots. The girls work in many other industries (not just motorsport) featuring at many exhibitions, trade fairs, product launches and private functions.
We represent many experienced promotional models, events staff across the country, for all manner of assignments. Whether it's a nationwide marketing campaign or a nightclub launch, a fashion show or a corporate exhibition, Grid Girls can provide the models to make an impact! The dedicated team at Grid Girls ensure that each assignment, large or small is given the full attention it deserves. The Grid Girls pride themselves on their ability to build a comprehensive understanding of their clients' requirements, thus enabling them to provide a tailored service to suit each individual assignment.
Testimonials:
"Recommendations come very highly from all of the team at CoverTec Solutions for the help and support from the Grid Girls, Jen and Lena have a great look, great figures and work together very well, they are professional, courteous and thorough in given instructions, we would be in no hesitation to hire there services again in the future." - CoverTec "The girls posed for many photos which is great coverage for Black Horse. Faye and Jemma got on well with Steve Parish's team who were running the daily events and participated in all the activities. We would recommend for further events." - Black Horse Finance
Previous Clients:
FXPro
World Rally Championship
Birmingham Speedway
Cruze Team
Aon
Magic Bullet
Gearlink Kawasaki
Motorpoint of Derby
TAG
Triumph
GNS Racing
Motoden
Honda
XFX Europe
MCE Insurance
Cotswold BMW
Mottard
Covertec Solutions
Black Horse Finance
Goodridge
SuperVision
UR Group
Greenhill Events
Leyland Paints
Isle of Man
TT
Maxxis UK
Maxxis EU
Photos of Grid Girls