Gravity – Promotional Staff | UK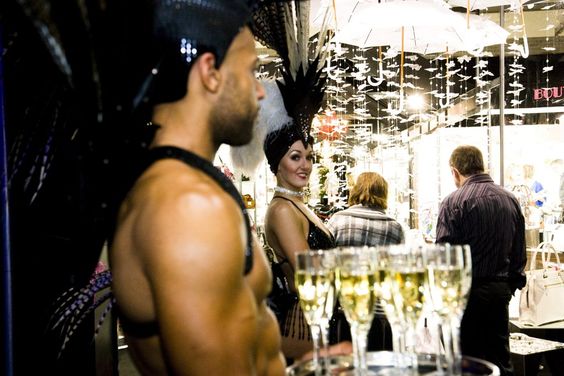 Gravity can provide beautiful hosts & hostesses for your event or venue. They can be used in a variety of ways; meeting and greeting on the entrance of your venue, serving champagne and canapés, serving shots through ice sculptures, or getting the party started by encouraging your guests onto the dance floor. Gravity hosts & hostesses can be costumed to suit your event, whether it be the popular "Collar and Cuff", body painted, on roller skates in and around your venue, bunny girls, or for those events that require something a little more cheeky, their hosts can serve wearing only a small apron. Gravity hosts & hostesses are highly experienced, professional, and intelligent, have charming, approachable personalities and endeavour to make your guests feel comfortable and welcome. Their hosts & hostesses are the perfect solution, and key to a successful night.
Gravity also have beautiful Las Vegas Style feather hosts/hostesses with various styles and colours of the highest quality, beautifully made feather costumes, available also to perform Las Vegas style routines for that extra sparkle.
Standard Length of Performance:
4 x 50 minute sets.
Testimonials:
"The event was a fantastic success and was really busy throughout the day. The girls were fantastic, such bubbly lovely personalities and were perfect for the job." -Metquarter Shopping Centre "Thank you, thank you thank you! Your hosts were the extra something my event needed. Beautiful bodies, helpful, and courteous to the end. I've passed on your details to my clients and friends."
- Private Client
"I and the whole Royal Variety team would like to pass on our sincerest thanks to you for taking part in this year's show. It was lovely to meet you all; you were all such a pleasure to deal with over the weekend, you guys did an amazing job! We're all still trying to get over a) those amazing feathers and b) the sight of seeing you all crouching down and climbing up and down the stairs in that theatre on your stilts!!"
- ITV
"Just a note to say thank you to you and all your team for all your hard work. The whole show was amazing from start to finish and the party was a huge success so thank you very much."
- Propaganda
"Gravity have been working for us for many years in Shopping Malls, Stores, Corporate Events, Children's Centres, Weddings, Private Functions, in fact they provide quality entertainment where ever they perform. I consider them professional, hard working, polite and reliable with fantastic personalities and can adapt to any situation. They have many costumes for all occasions which are of the highest quality, but are always prepared to add to their extensive range to suit your requirements. Where ever they perform you can guarantee they will be re-booked, and I consider them two of the best entertainers in the business. In my opinion Gravity are top quality professional entertainers of the highest degree."
- Busy Bee Promotions
"Thanks once again for the quality, classy & 'unique' touch you brought to the night & I have no doubt in my mind that we would be calling on you again"
- Ice capade
Photos of Gravity