Gravity – Aerial Silk, Hoop & Trapeze Duo | UK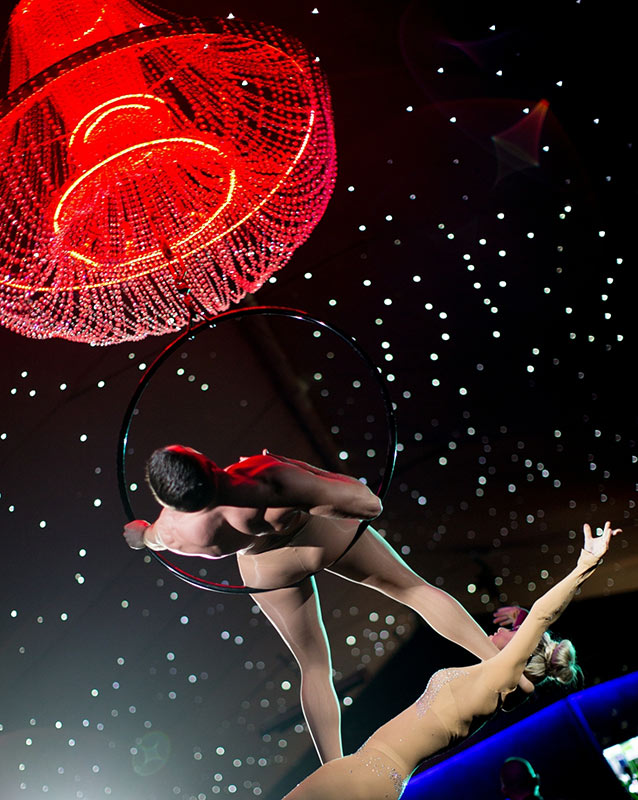 This beautiful, dynamic male and female duo act can perform their aerial silks, aerial hoop, aerial net, aerial trapeze or their fabulous acrobalance routine or a combination of skills at the same event. The performers are also available as individual solo acts. This amazing duo can create costumes and choreograph a routine to suit the theme of your corporate event or private party.
Aerial hoop, silks, net and trapeze require rigging but their acrobalance routine is floor based. Weight bearing truss, or fixed point required for aerial this, and we can lease with your rigging/lighting team and venue for this to be implemented hassle free to you.
Testimonials:
"I have booked Gravity on several occasions. Each time they have been extremely polite and dedicated to the job regardless how big or small. Their costumes are out of this world and they are very much a 'peoples person' they built good rapport with my guests during meet and greet, made them feel
at ease and to this day they are still talking about the stilt walkers. It really is a professional service with a smile. Excellent in every respect!!! I would recommend them to the Queen!!!!"
– A Night To Remember
" I and the whole Royal Variety team would like to pass on our sincerest thanks to you for taking part in this year's show. It was lovely to meet you all; you were all such a pleasure to deal with over the weekend, you guys did an amazing job! We're all still trying to get over a) those amazing feathers and b) the sight of seeing you all crouching down and climbing up and down the stairs in that theatre on your stilts!!" 
– ITV
" Just a note to say thank you to you and all your team for all your hard work. The whole show was amazing from start to finish and the party was a huge success so thank you very much." 
– Propaganda
" Our guests were truly amazed to see you. Your costumes were magnificent and I cannot express how grateful I am for doing such a magnificent job." 
– Private Client
"The event was a fantastic success and the performers certainly added to the whole experience on the night. They were great – mingled with guests and the fire performers went down very well! So thank you very much for all your help with the event – I hope we'll be working together again in the future. 
– Welcome to Yorkshire
"Everything went really well thanks… pass on my thanks again to them all. The fire and glowing jugglers worked really in the open space as it got darker! Really useful to know that you have some local entertainers, as we perhaps think majority of your guys are London based. I've let the team here know about my positive experience and to ask you about local performers if they have anything coming up. Thanks for all your help with it."
– Logistik
"Everything went really well. Your performers were excellent!"
– Lisburn City Council
"They were fabulous; they got really involved in the evening and helped us with the raffle and encouraged everyone to get up to dance. Would highly recommend them, we have had lots of positive feedback from all the staff who attended. Please pass on our thanks, hope to work with you again."
– The Funding Corporation
"..Stole the show by far the branch's XFactor. Brilliant personalities, full of fun and fully embraced the day…A massive thank you from us here at MK great working with you once again."
– John Lewis (via Contraband)
"It seems that the Thomas More Square inhabitants were very responsive to bunnies on stilts handing out delicious chocolate eggs! Both boxes of eggs were completely gone and people were asking for a lot of pictures, so I am pretty sure it went well."
– Land Securities PLC (via Contraband)
"Every single one of them were fantastic!! We and our client were thrilled with our guest's reactions. They were professional as always! Thanks again."
– Roselle Events Ltd
"The event was a great success and well received by all. Thank you for all your help. All stilt walkers were professional, happy to take direction and pleased with the reaction. Neil was a great help and everything came together really well. Please pass on my thanks to everyone."
– Powerhouse Productions Ltd (via Contraband)
"….Thank you for your assistance with the 50 Year Celebration last week. The event was very successful, and all the guests had a fun and entertaining night and we've had great feedback from our clients. Thanks for your help with all the aspects you were providing us with. The stilt walkers looked great when welcoming all of the guests into the venue. They especially looked the part with their amazing costumes! We really appreciate all your hard work, not just last week, but over the past few months to ensure that the night was a success. …"
– Imagination Group Ltd (via Contraband)
"Please send on my thanks to Mikey, he was superb, I don't know how he can throw those moves on the dance floor whilst stood on stilts??? He was very attentive, inter acted with the guests well and fitted in perfectly with my black and white striped theme. He even danced with the Head of first direct when I asked him to take her to the dance floor, what a STAR."
– First Direct (via Contraband)
Previous Clients Include:
ITV
BBC
TOYOTA
MTV
Millers Vanguard
Bosch
Showstoppers Worldwide
Coventry City FC
Taylor Lynn Corporation
Leeds Law Society
The Royal Variety Performance
Photos of Gravity