Glowbot – LED Robot | UK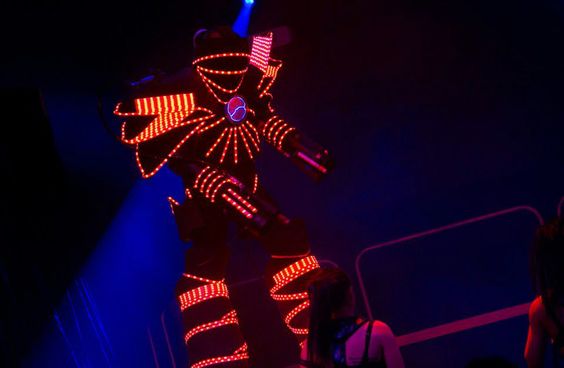 Glowbot is a super bright LED-clad giant robot. This character is a guaranteed attention grabber, with full accompaniment of on-board lasers and its own pyrotechnic stage show. Glowbot is a great addition to any club night and festival. Glowbot is accompanied by a controller who activates the colour-fading LED light suit and stage pyrotechnics.
Note: When booking Glowbot the performance space needs to be dark, otherwise the effect of the costume will be lost.
Standard Length of Performance:
The Glowbot performs 2 x 10 minute sets.
Testimonials:
"Feedback is great from the weekend – everyone was really happy with how the shows went. The guys were great to work with, really helpful with the filming as well. Thank you so much for all your support across these Battle of the Club events."
– RPM London Ltd (via Contraband)
"They were great!  Bang on time and really good to work with.  This was a difficult gig as it was a grime night and so not that suited to Glowbot but the crowd enjoyed it and they did a 5 min stage show and 5 min walk around.  The client was really happy with how it all went."
– RPM London Ltd (via Contraband)
"Glowbot was outstanding. Thank you so much. We will work with you again soon. Maybe you can start to have a think about next performers for our next event!"
– Boujis Ltd (via Contraband)
"Keith and Spike were excellent on Friday in Liverpool!  Really cool guys, the performance was great – Keith used a more 'robotic' style than I've seen before – looked amazing and the crowd loved it. We did a walk about as well and got some great pictures!"
– RPM London Ltd (via Contraband)
Previous Clients Include:
BBC
Talkback Thames
The Wright Venue
Heineken
Syndicate Blackpool
Pacha
Ferrari
Exit Festival
National Drum & Bass Awards
Photos of Glowbot