Glo – Massage & Beauty Therapists | UK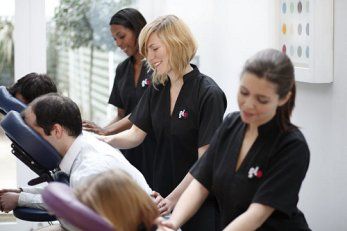 Glo is the perfect accessory for any event, providing fun yet relaxing holistic and beauty treatments throughout the UK.  Whether you are looking for unique experiential activities to showcase a new product, venue or service or simply want a fun addition to your party or corporate event we can provide a team of mobile beauty therapists to pamper and beautify so that your guests feel like a million dollars.   With access to over 500 therapists we are able to provide personnel for those events that are across multiple locations throughout the UK.
Options Available Include:
On-site (seated) massage
Indian Head massage
Hand and Foot Massages
Manicures
Pedicures
Make-overs
Hair Styling
Facials
Temporary tattoos
Acupuncture
Tai Chi
Yoga
All therapists are fully qualified and insured and only use professional salon quality branded products.  The standard Glo event uniform is either a black tunic, black trousers and black shoes or a pink Glo branded t-shirt, black trousers and black shoes.  Should there be a specific uniform for a particular event, therapist sizes can be supplied.
Standard Length of Activity:
Typically 15 minutes but some treatments require longer
The Ultimate in Event Entertainment
Glo is the perfect accessory for any event. Let your guests choose from an onsite massage or mobile beauty treatments to help them relax, revive and Glo throughout your party, event or special occasion.
With a celeb list which includes Girls Aloud, James Morrison, Maroon 5 and Nicole Scherzinger, along with heavyweight events: Live Earth, MOBO Awards, Classical Brits and Concert for Diana, Glo brings star treatments to you whatever the occasion.
Glo provides professional mobile beauticians and therapists throughout the UK and caters for events of all themes, shape and size creating totally bespoke programmes that are sure to add the finishing touch to any event.   Our pampering packages allows you to pick n mix from our menu of treatments:
On-Site (seated) Massage
Indian Head Massage
Hand and Feet Massage
Manicures
Pedicures
Facials
Make-Up Makeovers
Hair Styling
Temporary Tattoos
Reflexology
We can also put together a package of ideas and activities for your corporate health event and offer an array of corporate treatments:
On-site (seated massage)
Indian head Massage
Reflexology
Ear Acupuncture
On-site Yoga
Life-coaching
Desk ergonomics
Nutrition Workshops
Stress Management workshops
Launched in 2006, Glo is becoming renowned for its flexible and professional approach to supporting events, private pamper parties and corporate appointments throughout the UK . Glo have a standard Glo uniform of either a magenta coloured branded t-shirt, with black trousers or black tunics with a pink Glo logo(branding is removable) and black trousers , but if you require the therapists to wear a uniform that is specific to your event, then please let us know.
Standard Length of Activity:
Treatments range from 10 – 30 minutes.  Please get in touch for further info on specific treatment duration.
Testimonials:
"Glo gave the Universal Christmas party that extra sparkle by providing massages to all the guests. The Glo girls were really friendly and were jam-packed with people wanting massages from start to finish. A first class service that I will definitely be using again." 
- Universal Music
"After conducting research for Stella magazine and Telegraph Magazine we needed a team to help Telegraph Media Group deliver this to the market place in a professional and sophisticated manner.  We couldnt have asked for more from the Glo team.  Kelly and Charlottes team were exceptional.  They fulfilled all of our objectives and truly helped us deliver to over 300 people in a very tough media market place.   The Telegraph Media Group would be more than happy to recommend Glo and use them for future events"
- Daily Telegraph
"We were delighted with Glo's hard work over the series of events at shopping centres around the UK last month.  The massage therapists were continually busy and worked very hard.  We received numerous compliments about the Glo team throughout.  Should the need arise for massage therapists at another event we would not hesitate to contact you."
- Monarch Airlines
"Glo provided manicurists and massage therapists for a recent Kiss FM and T-Mobile event.  I found them organised and professional to deal with and the therapists were friendly and fun, fitting in with the theme and atmosphere of the party. Glo were self-sufficient at the event and took care of everything in the pamper area, which enabled me to concentrate on running the event.  All our guests greatly enjoyed Glos massages and manicures".
- Arena 6 Events
Previous Clients Include:
Universal Music
Daily Telegraph
Red Bull
News International
Veet
Holland and Barrett
Microsoft
Costa Coffee
MOBOs
Accor Hotel Group
Classical Brits
Transport for London
Spink Health
Adobe
Eurostar
Global Radio
Nokia
Monarch Airlines
Pegasus PR
Goldman Sachs
New You Boot Camp
Photos of Glo