Gladiator Theme – Stunt Performers | UK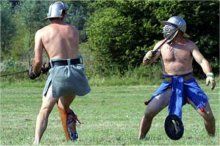 Step through the gates of the Colleseum 2,000 years ago and watch as our professional fighting men from around the empire battle it out with cold steel on the of the sand of the worlds most famous arena………welcome to "Circus Maximus".
Your guests will be greeted and seated by our MC Proximo who then introduces the Emporer, who makes his speech on the glory of Rome and its civilised inhabitants, your guests…… Proximo then informs the audience that the cream of the empires Gladiators have been brought here from every corner of the known world, including Maximus and Brutus along with six other champions.
Both Maximus and Brutus will be on hand for meet and greet duties at the start of the evening and will perform two bone crunching fights spaced throughout the evening to keep the guests entertained.
All the skill of years of training are brought together in a brutal display of fast moving action that will please both Nero, the audience and the gods alike as the UK's premier live swordsmen work to make your event memorable beyond words….
Testimonials:
"Thanks for recommending Wayne and the team as the focal point of our recognition dinner. The show they put on was highly impressive, very entertaining, and incredibly funny and went down really well with the audience. On top of this, the support and flexibility the team gave throughout the day was brilliant, from welcoming people at the gang plank, through to marching guests between parts of the location, and making announcements."
- Private Client
"Fast moving, colourful and very professional"
- Fools Paradise
"Thanks guys! Once again The Stunt Team saved the day!"
- NDS Promotions Ltd
"Arresting entertainment made the evening go with a bang!"
- Zap Enterprises
"The guys were fantastic – provided a great stunt, and worked the theme and messaging of the show in very well."
- House PR (via Contraband)
Previous Clients Include:
Virgin
British Rail
Ernst Young
Kensington Palace
Hampton Court
Tower Of London
Barclays Bank
Shell
British Airways
Pinewood Studios
Catch A Star - Dubai
Doha Film Festival - Qatar
Tescos
Sainsburys
Clinton Cards
When You Wish Upon A Star
Yahoo
Legal Business
Rentokil
New Look
KP
The Dorchester
The Intercontinental
The Hilton
Photos of Gladiator Theme