Giant Martini Glass | UK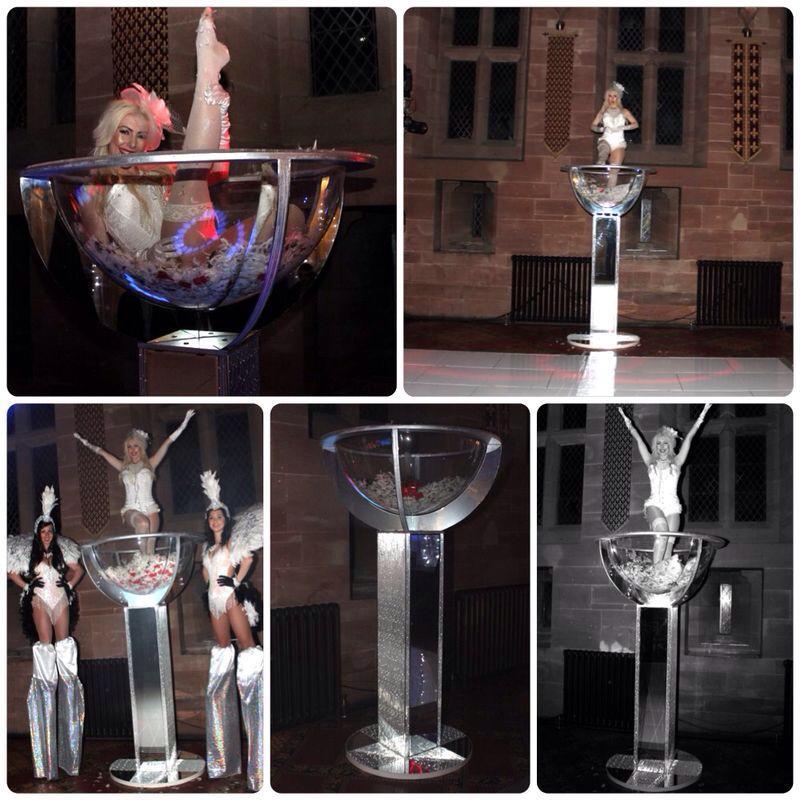 Whether shaken or stirred this 8 ft free standing Giant Martini Glass decorated with mirrored glass detail is the largest in the UK. It looks amazing by itself, but when filled with a glamorous girl, Burlesque Dancer or Showgirl, it really makes an impact and is sure to create a response, from your guests at your next event!
Measuring over 8 ft tall, the glamorous Giant Martini Glass is part living décor and installation art. With a variety of interactive cabaret-style performers available – including Marilyn Monroe – the Martini Glass can be used as an entrance way, bar centerpiece or as a focal point for your room design. Featuring a 100% waterproof acrylic bowl, the piece can also be filled full of ice as a Martini chiller.
The Martini Glass and complete with a Burlesque Girl or Showgirl can be part of a full show, performance in the glass with a routine, or part of a bigger routine with other dancers. The dancer for inside the glass can perform in any theme or style required.
There is also an option to personalize the class with a client's name or company name if required.
Costumes Available:
Burlesque
Showgirls
James Bond
Hollywood
Standard Length of Hire: 2 hours
Photos of Giant Martini Glass