Georgianna – 18th Century Musicians | UK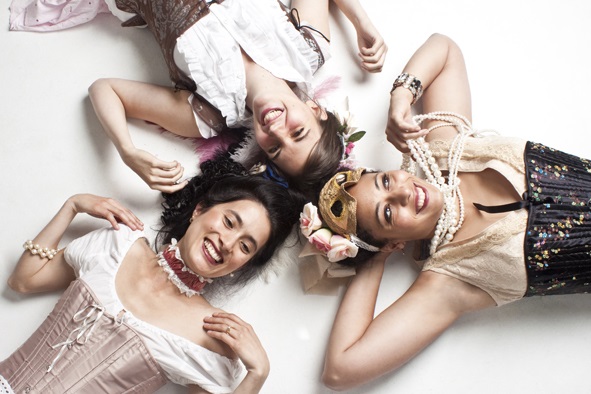 Georgianna is a girl band that perform the long-forgotten songs of the 18th century pleasure gardens, perfect for 18th century themed events. They also have branched out to include Jane Austen era (Regency) and Victorian music and costume.
This innovative approach won for them funding from Grants for the Arts and enabled them to create an MTV-style music video. This is underpinned by historical performance practice as well as academic research.
Georgianna perform either as a duo or a trio. They can perform indoor or outdoor; acoustic or amplified (with keyboard), for full concert or small sets for a function. They have recorded two CD's: 'Ladies of Misrule (Georgian) and 'All Corsetted up for Christmas' (Victorian) and toured in 2011 to commemorate the 200th anniversary of the Regency and Jane Austen's Sense and Sensibility.
Technical Specification:
If acoustic, they need a space of 3 x 4m, flat, with three armless chairs or stools. If amplified, they need the same space and chairs, plus 3 microphones (one a floor mic or able to point upwards toward cello), and ideally monitors pointing toward us as well as the usual speakers for amplification, plus power points for the keyboard and mics. If outdoor, they require cover over the space above them and ideally a 'back wall' or 'shell' behind them.
Standard Length of Performance:
The standard length of performance is 2 x 45 minutes.
Testimonials:
"We wanted you to know how pleased we were with the musical performances. They were marvellous and established just the right tone and period atmosphere. The costumes were delightful and were the topic of several conversations. Members of Georgianna were very professional throughout the evening and added significantly to the pleasure of our guests."
-Birmingham Library
"Georgianna works this extraordinary material into a riotously entertaining exploration of baroque London."
- Metro
Previous Clients Include:
Birmingham Library
Compton Verney
Gloucester Quays Victorian Christmas Market
Historical Promotions Ltd
Jane Austen Festival
Orchard Events
Momentum Events
Mostyn Music
Museum of London
Valentines Mansion
Worcester Victorian Christmas Market
Photos of Georgianna