FUSE | Famous Electric Violin Duo | UK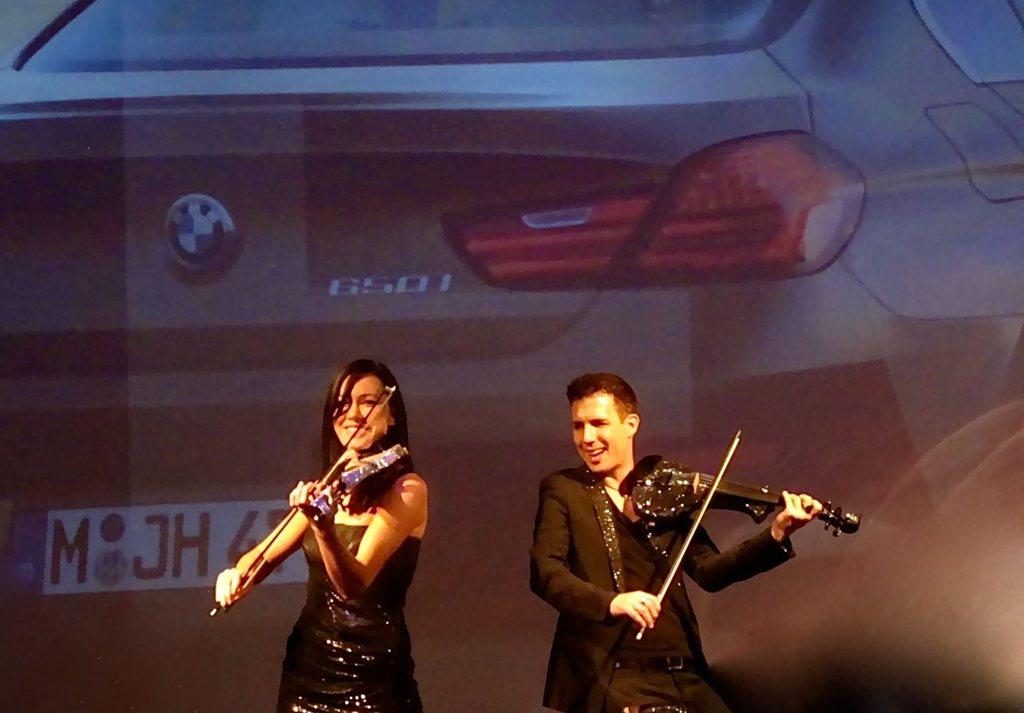 If you are looking for unforgettable entertainment for your corporate event or private party, we are a booking agent for FUSE Violin Duo, and can arrange for FUSE Violin Duo to perform for your guests.
There is no violin act in the world that can that can stand shoulder to shoulder with FUSE Violin Duo. They are the world's leading contemporary electric violin duo – award winning international recording artist and the official 5-times world record holder for Fastest Violinist in the World. They would make a fantastic addition to your corporate entertainment.
FUSE Violin Duo are BAFTA Nominated * Award Winning * World Record Breaking * International Electric Violinists *
FUSE Violin Duo are the only violin act to be sponsored by Swarovski, performing on their exclusive 24-Carat Gold & Swarovski Crystal Violins. Their performance is world class, spectacular and high impact – being the Guinness World Record holders for the Fastest Violinist In the World.
FUSE Violin Duo recently confirmed their world class talent on TV, broadcast the world over in more than 200 countries – performing their 5-times Fastest Violin Guinness World Records on Discovery Channels.
Contact us today if you would like to book FUSE Violin Duo to be the highlight of your event! We as your booking agent are more than happy to help you create the most memorable moments with FUSE Violin Duo.
Repertoire:
4 genres of music for to choose from:
Cross Over Set
Pop Set
Bond Medley
Club Set
Costumes Available:
The world's first-ever 24-carat gold violins. Exclusive Swarovski Crystal violins- Only violin act in the world to be sponsored by Swarovski.
Standard Length of Performance:
Usually 20-25 mins, but can be 60 mins but always suggest it is split into shorter sets.
Testimonials:
"The most innovative violin album for over a generation, violin hero has arrived!" 
-Daily Telegraph.

"Linzi Stoppard and FUSE gives classical music £1 Million rock 'n' roll makeover with their world's most expensive Swarovski Fuse violins" 
-Daily Mail.

"Three standing ovations says all there is to know. Please come back next year!" 
- BAFTA
"This is incredible world class entertainment, we've never seen anything like it, thank you for literally lighting up the heart of the West End for us" 
-The Royal Crown Estate.
"FUSE's performance was truly fantastic, a real talent from a genuinely original artist." 
-Rogers Wireless, Canada.
Previous Clients Include:
The Queen
Prince Charles
Prince William
Rolls Royce
McLaren F1
Prince Albert of Monaco
Formula 1 (in  Monaco, GB, Singapore)
BAFTA, Etihad Airways
GQ Awards
Candy /7 Candy
AUDI, BMW
Mercedes
RBS
Four Seasons Resorts
Bank of New York Mellon
Ivy League Universities (USA)
Roger Wireless
Royal Crown Estate
PUMA
Microsoft
Huawei
Cartier
Siemens
Nationwide
Photos of Fuse