Funky S – Street & Break Dancers | UK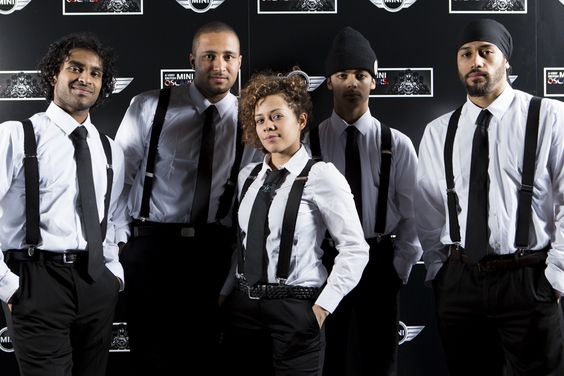 Funky S are the UK's No.1 freestyle and breakdance collective. They are a group of specialist dancers each amongst the world's best in their chosen dance styles. As a team, they create an incredible performing show group. The dance styles that they specialise in include bboying, popping, locking, robot, house, freestyle, old skool hip hop, new school and acrobatics.
Together and individually, Funky S have performed worldwide with numerous artists and companies, never failing to draw and amaze audiences with versatile yet explosive performances.
Funky S has gone from strength to strength since its creation in 2003, and is now 15 members strong featuring dancers from all over the world including France, UK, USA and Australia. The main concepts of the company are to provide regular employment for the talented members of the Funky S team and to promote the original street dances within the UK through performances, showcases, workshops and demonstrations. Funky S offer a variety of services and performances and have experience in all fields of entertainment from TV and film to corporate events to theatre.
They provide incredible crowd-pulling shows that provide a cutting edge and innovative solution to the increasing need to satisfy the rapidly growing urban market. Past performances have included exhibition battles, choreography and freestyle, most requirements for a large variety of events can be met. Their shows are very versatile and can be performed on stage or on a suitable floor both indoor and outdoor. Set times are a maximum of 5 times for an all day event and 3 times for evening and night time performances.
Funky S have performed at numerous weddings since they began in 2003 and have even been featured on the BBC's 'Don't tell the Bride'. They have a selection of shows that are suitable for a wide variety of wedding celebrations. Past events have included showcase performances with a band, exhibition battles and event choreographed shows with bride and groom! Funky S are renowned for being able to get a party started and gladly mix with guests to encourage them to dance or even teach willing participants some funky moves on the dance floor. With a selection of great songs from all eras, Funky S can theme show music to suit all tastes and can also provide a DJ service upon request to spin the party tunes (and wedding classics) all night long. Funky S never fail to bring the house down with their explosive and spontaneous shows that leave audiences astounded and the happy couple with a wedding that they will never forget.
Funky S also offer workshops and master classes to schools and dance companies for dancers of all levels.
Technical Specification:
Funky S will need a dressing room, a performance space 4m x 4m and/ or a workshop space of 10m x 10m (flat, smooth dancefloor).
Standard Length of Performance:
Set times are 2 dancers – 5 minutes, 3 dancers – 8 minutes, 4 dancers – 10 minutes, 5 dancers – 15 minutes.
Testimonials:
"Thanks so much for your recommendation, everyone really enjoyed the performance and they were so friendly and easy to work with. They really contributed something different to the evening which was lovely."
– Squire & Partners (via Contraband)
"The event was a great success thank you for asking. The dancers were really quite impressive, the conference delegates loved them."
– The Fragrance Shop
"Just a wee note to thank you very much for all your help with booking Funky S, they were superb on Friday night and went down really well with the audience. Thank you once again."
– NorthSound Radio
"The breakdancers were amazing and they were excellent with the students. The breakdancers were so professional and I wish we could get them in all the time, the kids loved them."
– Bridge Mary Community Sports College
"We are now back to reality! Just wanted to say a huge thank you to Funky S for making our wedding one to remember, you guys were the icing on the cake! Its funny watching the trailers, our guests standing there in amazement! Everyone is still talking about it. You were all exactly what we had in mind, everyone loved it! A surprise for the guests and something that wont be forgotten."
– Private Client
"The dancers were a hit with the boys and some of them really picked up some great moves. Thank you for making the party so straightforward and uncomplicated to arrange. We are big into parties in our family so no doubt we'll be in touch again soon."
– Private Client
"The wedding anniversary went very well as an event as a whole and in terms of the entertainment. The client was very happy with the dance act- it was everything he was hoping for and he was full of praise so thank you. Rob was also easy to deal with and all of the dancers were polite and amiable. I'm glad we went with this option and I would definitely use them again and recommend them as an act."
– Quintessentially Events
"The students absolutely loved the workshop. It was extremely professional and they all learnt about a new dance style history etc. Very impressed with the workshop. Cannot rate the dance instructor high enough. Thank you so much."
– Hastingsbury Business and Enterprise College (via Contraband)
"The dancers were amazing, unfortunately l missed them as was at the Games but the guests and crew were raving about them."
– Navigea Ltd (via Contraband)
"….Funky S were amazing and ended the evening brilliantly. They were very accommodating to the stage set that we had available and did a great job."
– Energy Marketing Group Ltd (via Contraband)
"The dancers were great and very charming too! They arrived on time and stayed till the end…Thank you very much – my son thought they were brilliant!"
– Private Client (via Contraband)
Previous Clients Include:
Madonna World Tour
PSP
PS2
Coca-Cola
Adidas
Levis
Speedo
Intel
Vodafone
Samsung
Hewlett Packard
Sony Playstation
BBC
National Geographic
MTV
Channel 4
UK Theatre Tour -'Life of a Bboy'
UK Bboy Championships 2006 – Solo World Champion (Mouse)
Funky S are street and break dancers in London, perfect for party entertainment, private parties, corporate party entertainment, stage cabaret entertainment, themed party entertainment, conference entertainment, international event entertainment, birthday party entertainment, stag party entertainment, drinks party entertainment, award ceremonies,  bar mitzvah entertainment, bat mitzvah entertainment.
Photos of Funky S – Street & Break Dancers | UK