The Foodies – Comedy Walkabout Act | UK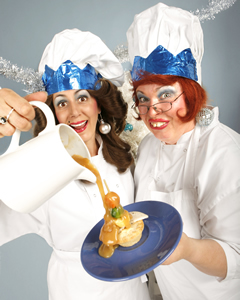 The Foodies
On a budget? Oh well – fudget! Serving up their new "Gastronomy Economy" they combine credit crunching cuisine with eye-watering flavours, and they'll have you splitting your sides as they knock up a feast from the most paltry of pantries! Hilarious sampling sessions with special diets catered for. Definitely contains nuts!
Two wannabe TV Chefs bring their own 'Heston Blumenthal style' dishes to the table. However theirs have an added twist – they use ingredients you'd find in your cupboard already. Given the current financial situation they've conjured up "Gastronomy Economy" – examples include – Tuc biscuits with Marmite (you'll either love it or hate it!), Turkish Delight infused with Flake garnished with Blueberries (they're always half-price in the supermarkets) – you get the idea? This act is funny as well as filling! The act can be performed in wet weather with wellies and umbrellas. Available as a walkabout with two performers.
Standard Length of Performance:
3 x 30 minute shows and is available for walkabout.
Photos of The Foodies