Flicks – Kids Movie Parties | UK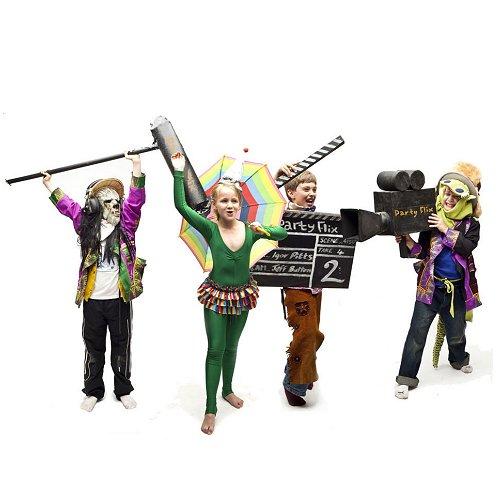 Flicks are a children's party company, run by an experienced film and video professional offering tailored parties and interactive film workshops for children. Flicks have just launched an exciting new concept in children's party entertainment.
Your child chooses a theme for their party, such as Harry Potter or Peter Pan, and then a scene from the film is scripted to a short story for them and their friends to act out and star in! Flicks film the scene using blue screens and a variety of backdrops, so the kids can be made to fly on broomsticks or walk around a beautiful jungle landscape.
We can cater for any of their favourite film/ television shows, most recently having shot a Match of the Day theme for Sammy, aged 10. The children effectively became the football stars and Flicks edit the film for them to keep forever!
A typical party lasts two and a half hours and is run by two fully trained and qualified staff.  The first hour and a half is devoted to filming. During the final hour the editor creates the preview whilst the children play more traditional party games and eat.  Themed catering can also be included on request.
A preview of the film is shown at the end of the party, though it can be hard to hear what's going on as the children find it so hilarious.  Never fear though as once the film is edited it is sent to the children on DVD to keep forever!
Standard Length of Performance:
The party lasts 2.5 hours, and they come to the client's house or a venue they have rented.
Testimonials:
"Mummy can we do it again tomorrow!?"
- Private Client
"The mom's all loved them with the picture of their little ones. Thank you."
- Private Client
"DVDs arrived and are brilliant, the boys loved them, thank you so so much - such a great memento to have."
- Private Client
'The DVD will be such a special memory of their party and friends for years to come."
- Private Client
"Billy keeps saying it was the best party he has ever had, he couldn't get to sleep until really late and couldn't stop saying it! All his friends adored it too. You were both brilliant, thank you so much. I'm really looking forward to watching it again."
- Private Client
Photos of Flicks