Flair – Human Statue Duo | UK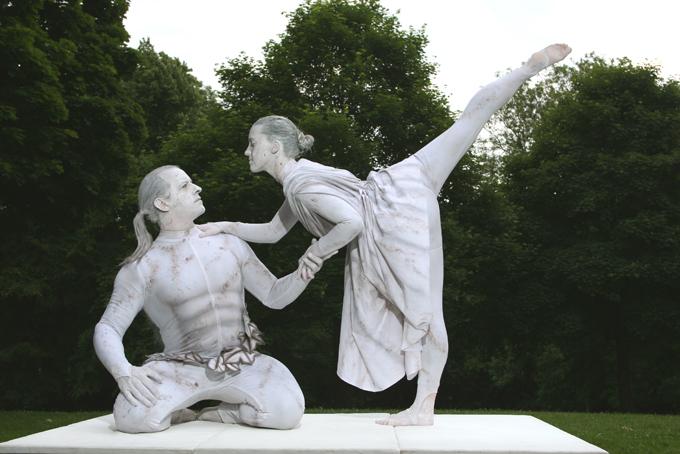 Flair
Flair present their beautiful acrobatic statues for ambient entertainment during an event. Up on their 1m high plinth Flair are motionless, frozen into statues. Gradually they come to life and begin to move together, creating beautiful, statuesque images. Demonstrating control and balance, these statues have a special twist – they perform acrobatic balances. From lying on the plinth to balancing one above the other, Flair bring a special dimension to the art of living statues. Perfect for wedding entertainment, corporate parties, and any event where ambient entertainment is wanted. These statues add a beautiful touch of class. Their Grecian statues are a great choice for Olympic themed events. Flair have entertained guests at events all over the world.
Flair Statues can also perform a stage acrobalance show, which is set to music with an Eastern feel. Flair's statue act act combines beautiful balances, flexibility and choreography with explosive acrobatic somersaulting flourishes and builds to a finale which demonstrates their superb strength, control and grace to the full. Flair have performed this focussed stage act all over the world at events ranging from product launches and council events to Royal events receiving much acclaim.
Costumes:
For the statues and walkabout acts Flair perform in stone effect or ice costumes. For the stage act, they have numerous colours and styles available.
Technical Specification:
A smooth, flat surface on which to position their plinth is required or the client can provide a raised performance area. The plinth is 2m x 1.5m and 1m high, so they will usually need a minimum height of 4.5m, but with prior notice, they can adapt their statue routine to suit a lower venue. A clean, secure and warm changing area close to the performance area is required. If they are performing statues, they would also request a shower if possible as they wear full face, hand and hair make up which needs to be washed off before leaving the venue. Food and drinks to be provided.
Standard Length of Performance:
The statues and walkabout Flair acrobats and human statues can perform 3 x 30 minutes, 2 x 40 minutes or 1 full hour set. The stage act lasts for 5 – 6 minutes.
Testimonials:
"Thank you so much for performing at our wedding. You were stunning and added so much to our day. So many of our guests were absolutely convinced that you were real statues until the moment you moved into your first acrobatic pose. Then they were just amazed!"
– Private Client
"Fantastic, just fantastic! You wowed the guests, and they were talking about you for the rest of the night."
– RAF Officer's Ball
"I thought they were real statues!" "I don't believe it!" "You completely had me fooled, that's brilliant!"
– Private Client
Previous Client Include:
Bosch
BMW
Chelsea Flower Show
Hype
Pfizer
Nokia
Phillips
Discovery Channel
Hong Kong Jockey Club
China White
Cadburys
RAF and Sandhurst Officers Ball
Kensington Palace
British Judo
Isuzu
Dorchester Arts festival
Stella McCartney
Selfridges
Photos of Flair