Fire – Fire & Pyrotechnic Shows | UK & International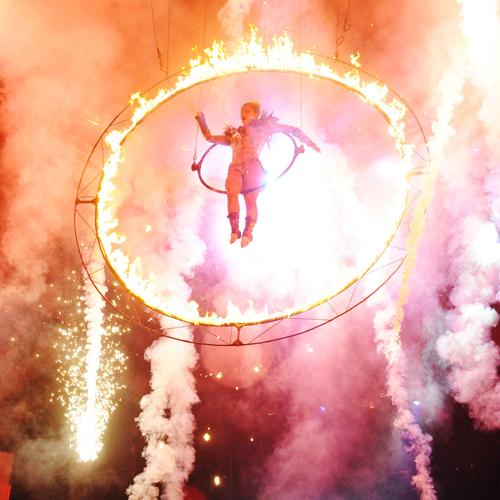 Fire – Fire & Pyrotechnic Shows
Light up your night with an explosive performance of fire shows and pyrotechnic spectacles.  Dynamic choreography, sleek styling, charismatic performance artists and cutting edge special effects and devices all contribute to a show that's hot, heady and… health and safety!
Our production company takes pride in their exemplary safety record and always work with trusted, experienced artists and suppliers, carefully planning and rehearsing their shows in consultation with you, the venue, and other suppliers to the venue, to ensure that, though the show looks daring and dangerous, in reality there is no room for the unexpected.
Their extensive production experience means they can offer you an off-the-shelf show or create something specially for your event, whether that's incorporating aerial circus, video projections, or building bespoke fire structures to animate your space.  Shows can last from 2-15 minutes and they can also create installations, parades, ambient performances and firework displays.
Staging, lighting and sound can be supplied.
Testimonials:
"It was FANTASTIC! We've had so much good feedback. You guys did an amazing job!"
– Cabot Circus
"A really great finale to the performances – and spectacular!! I don't think any of us realised just how big it was going to be!!"
– Rouge Events
Photos of Fire – Fire & Pyrotechnic Shows