Fairly Famous – Jugglers | UK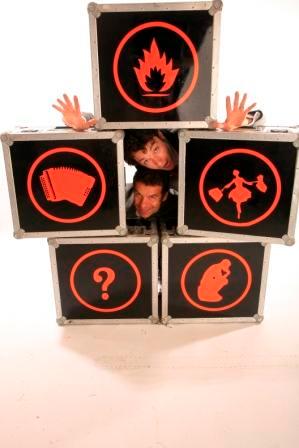 Fairly Famous have been touring outdoor performances for the last 18 years. Through their shows they aim to entertain, inspire and surprise with high quality, original street theatre. Fairly Famous have performed all over the world including prisons, war zones, hillsides, football stadiums, village halls, trains, castles, visitor centres, galleries, caves, conferences, films, palaces, mental hospitals, and lots and lots of streets.
Acts Available Include:
Just In Case
This is a slick and original 30 minute comedy juggling routine, with a spoof magic show. Includes 'juggling Shakespeare' routine, a tribute to 'The Sound of Music', plus 'Silky Cigar Box Manipulation' and 'The Stack Of Death'. This show is great for cabaret or festivals.
A comedy juggling and spoof magic show with the best of the material they have come up with in the last 20 years, given a really sharp modern feel. Full of fast paced material, live music, very quick patter and lots of surprises.
They choose from ten 5-10 minute pieces that come out of themed cases (culture, danger, mystery, magic, etc.) that they put in or leave out depending on the venue, audience, weather, show length etc. Music is either live (accordian and percussion) or funky CD soundtrack. Can be performed solo by Jem if budget is limited.
This is the most flexible show. Can play to large indoor venue on stage with radio mics, festival marquees, outdoor street style or cabaret. Ceiling height is no problem.
Cheesy Rider
With 49ccs of raw power and a six pack of Babycham this show is a firm family favourite! It's a juggling show based around an amazing musical cocktail bar with shaker juggling and comedy cookery. The routine includes crowd interaction with fashion advice and a 60s makeover for one lucky volunteer!
Two perfomers arrive driving a cocktail bar. The show starts as soon as they are in position and consists of 4 food and drink related juggling routines. Good for family audiences and can be staged indoors (with motorbike removed or drained of fuel).
Can also play as a walkabout / driveabout. 3 x 30 minutes per booking.
Performance times for each show range between 30 - 45 minutes.
Testimonials:
"Fairly Famous act called David Payne is very very funny and gets lots of people involved in the act. They also performed as lifeguards which worked really well as it was pouring with rain! They sat at the festival entrance greeting everyone as they came in. I would definitely recommend these guys."
- SkyFest
"You are looking good boys."
- Mick Jagger
"I really must thank you. Your show was excellent and brilliantly witty not to mention superbly slick - and your presentation was everything a promoter prays for."
- Inverness Festival
"Amazing."
- Hugh Grant
"Lots of curiosity, surprise and laughter - what more could we ask for - great show!"
- Shrewsbury Science Festival
"Thank you again for your professionalism. The remaining acts will have trouble matching you."
- Wear Valley Arts
Previous Clients Include:
Expo Seville
Stockholm Water Festival
Glastonbury
Sony UK
Coca Cola UK
Tall Ships Festival
Millennium Dome
Commonwealth Games
Photos of Fairly Famous