Electric Air Hockey Table – Table Top Game | UK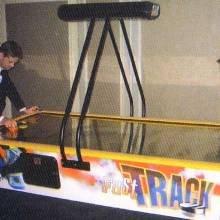 Electric Air Hockey Table
The electric air hockey table comes complete with two pushers and pucks and is very sturdy due to it's bolt on legs. The table has an American theme. This game is fast paced and will draw a big crowd of guests, whether they are spectating or wanting to have a slice of the action themselves!
This unit is for age 6yrs +. There can be 2 players on each team at any one time. This unit requires an electrical power point and an operator is compulsory for this unit. Great fun for everyone.
Each go lasts approximately 5 minutes (4 people).
Dimensions: 7ft x 4ft x 3ft (2.1m x 1.2m x 0.9m)
Photos of Electric Air Hockey Table