Eleanor – Live Body painter | UK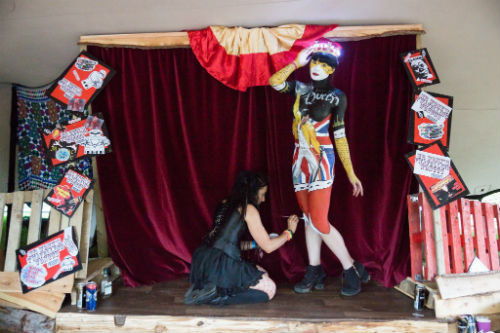 Eleanor performs live body painting at events for the entertainment of guests/public. Prior to theevent Eleanor will create a design to incorporate clients requests such as a brand logo, portraits of people/animals etc and turn them into a full body paint plan. The body painting progress can be viewed through the day. A full body paint can take up to 8 hours, depending on the complexity of the design and also include l.e.d. lighting, head dress and u.v. paint. Often the painted model will then go on to perform their own skills, such as dance, hooping, aerial, contortion or fire-performance.
Guests will be encouraged to get their photographs taken with the painted model. Live body painting provides an interesting, unique experience as part of an event.
Set Times:
Half body paint – 4 hours
Full body paint – 6-8 hours
Technical Requirements: 
Access to a power point where area painting will take place. Water supply nearby. Adequate heating for model.
Previous Clients include :
Solo music agency
Jazz Events
Manchester Tattoo show
The Great British Tattoo show
The Midnight Bakery
Ink and Iron tattoo Show
Bodypaint Events U.K.
Photos of Eleanor