Circus Workshops: Edinburgh Performers – Scotland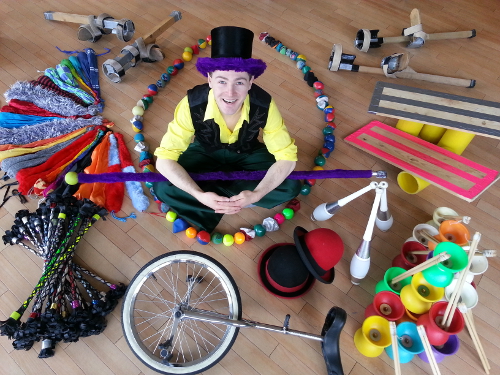 Edinburgh Performers
The circus skill workshops offered by Edinburgh Performers are creative, fun, and quite unique! Accessibility, safety and fun are the key elements and interaction and co-operation are encouraged wherever possible.
Options Available Include:
Manipulation
Covers the following skills:
– Juggling
– Poi
– Devil-sticks
– Diabolo
This workshop is great for helping to develop hand-eye co-ordination and concentration. Each skill is broken down into clear and achievable steps before introducing fun and challenging partner games.
Acro-Balance
The art of climbing on your friends without hurting them! This workshop is fun and challenging with a role for everyone from the smallest to the biggest. This is an excellent workshop for group cohesion and breaking down barriers as well as a good workout!
Balloon Modelling
A lot of wind and a few twists. This covers the basic elements of ballooning and is a fun and easy skill to learn.
Clowning
Discover you inner idiot! Clowning skills and techniques. This workshop takes the participants through a series of silly stunts and timing tricks to present a short, traditional style clown routine.
Balance Skills
These skills immediately provide an opportunity to practise fine-balance and are thrilling for the participant. Teamwork is essential as the participants work in groups of three to support each other.
Testimonials:
"We asked Ian to help us provide a point of interest at an actuarial convention and were delighted with the way that Ian listened to our requirements and tailored his approach to meet them. We received a good deal of positive feedback from our clients and are now looking to see how we can use Ian's skills again. I would certainly recommend Edinburgh Performers."
– Private Client
"A great success!"
– Strathmore Arts Festival
"Excellent!"
– Healthy Valleys
"Many thanks for the fabulous workshop you did. The kids were really thrilled with it… I have no hesitation in recommending Edinburgh Performers to anyone who wishes to learn circus skills."
– Harlaw Academy
Previous Clients Include:
Scottish Government
HRH Prince of Wales
Historic Scotland
Smirnoff
HSBC
Scottish Widows
IKEA
Conflux
Dance Base – Scotland's National Centre for Dance
Photos of Edinburgh Performers
Book Edinburgh Performers
Want to book a performer, or just find out more? Give us a call on +44 (0)208 8291140 or use our online contact form via the button below.