Dressed Champagne Table Waitresses – International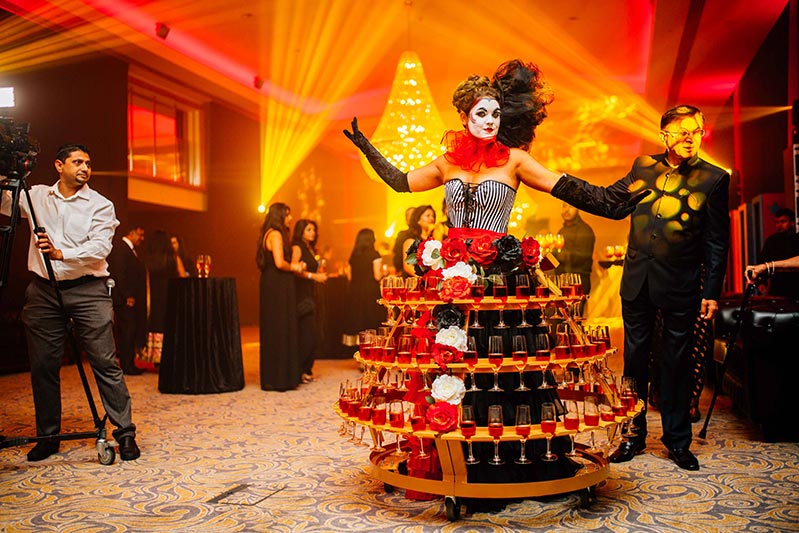 Roaming through the party for another drink? Fear not – our amazing dressed champagne tables will bring the booze directly to you. These girls are kitted out with a dress which has been custom-built to accommodate a plethora of champagne flutes.
Each is perfectly balanced on a series of platforms, while wheels allow the table to glide through the crowd and offer people drinks. Even if the girls don't reach you in time to quench your thirst, you'll no doubt see one of them thanks to their glitzy and glamorous outfits.
The brilliance of our dressed champagne tables is they're suited to pretty much every type of theme.
Whether you're looking for services for a casual shindig or a corporate event, these roaming tables are able to get the job done while leaving your guests smiling.
Testimonials:
"The dress tables stole the night! They looked absolutely amazing themed in their masquerade attire, they suited the party perfectly and all of our guests adored them. They girls in the tables were super friendly and highly efficient we will definitely be using them again"
– Leeds Castle
"I hired two tables for my wedding and they were the highlight of our drinks reception, we had drinks, canapés and wedding favours on the tables which our guests really enjoyed"
– Private Client
Previous Clients Include:
-  Leeds Castle
- Café De Paris
- Grosvenor Hotel
- Savoy
- Audi
Photos of Dressed Champagne Tables