DPS – Acoustic String Quartet | London| UK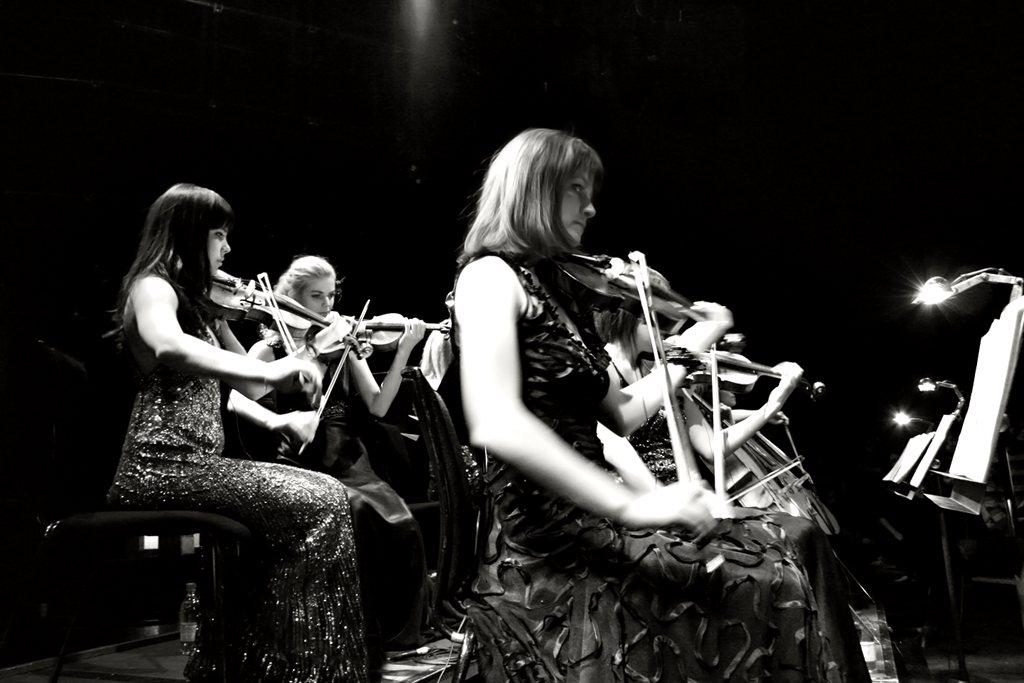 DPS
DPS are by far the most elegant, sophisticated, and admired acoustic and electric string quartet in the country. Classically trained at the Royal Academy of Music, their talent and ability has taken them all over the globe performing in some of the most prestigious venues and amongst some of the world's most renowned artists including Westlife and Michael Buble. They have worked on TV shows such as Parkinson, Top Of The Pops and Strictly Come Dancing. As well as specialising in session work and TV performances the quartet regularly perform at a wide variety of private and corporate events.
DPS have catered for a wide range of clients and venues and always tailor their music to suit an event. Career highlights include a charity event at St James' Palace hosted by the Queen and Prince Phillip, background music for a dinner at the world Economic Forum in Switzerland, accompanying a burlesque dancer at a cabaret show and playing with Ozzy Osbourne at the Royal Variety Show.
Set Times:
3 x 45 minutes of background music.
Testimonials:
"The girls were fantastic, a few people have asked after them so I have passed on your details. Please pass on my thanks, they were really great and would recommend them to anyone else 200%."
– Nutricia Liverpool
"The quartet was wonderful. Please convey my thanks to the girls; they really enhanced the evening's ambiance. I may organise a similar event in the summer and I'd be happy to use the same act again, then."
– United Utilities Group PLC (via Contraband)
"DPS were fabulous on Friday night! They played beautifully again and it added great atmosphere. They really looked the part too so it was all very in-keeping. Thanks for all your help as well."
– Big Group Ltd (via Contraband)
"DPS were great."
– Softcat Ltd (via Contraband)
"They were brilliant, really fitted the venue. As far as I know, the client loved them!"
– Big Group Ltd (via Contraband)
"…I just wanted to say how fabulous DPS were last week. The music was beautiful and perfect for the occasion and they were all absolutely charming. Many thanks for all your help too."
– Big Group Ltd (via Contraband)
Previous Clients Include:
The Dorchester
Claridges
The Lainsborough
Gordon Ramsey
3i
Kensington Palace
The Ritz
Royal Festival Hall
Asprey and Gerrard
Toyota
Jools Holland
Jonathan Ross
The Graham Norton Show
Dancing on ice
Top of the Pops
Strictly Come Dancing
GMTV
This Morning
Live at Abbey Road
T4
CDUK
Royal Variety Show
100 Greatest Love Songs
Live at Maida Vale
Glastonbury
Repertoire Includes:
Albenez
Tango
Arlen
Over the Rainbow
Bach
Ave MariaJesu, Joy of Man's Desiring
Air on a G String
Double Violin Concerto
Arie
Sarabande
Bourree
Beethoven
Minuet (Sonata Op. 49, No. 2)
Adagio Cantabile
Cavatine
Boccherini
MinuetBorodin
Quartet No 2
Polvtsian dances
Brahms
Symphony No 3
Cherubini
Scherzo
Chopin
Prelude in A
Etude No. 3
Waltz
Grande Valse Brillante
Polonaise
Collins/Leigh
Cock Linne
Debussy
Golliwog's Cake-Walk
Dvorak
Humoresque
Elgar
Salut d'Amour
Chason de Matin
Chason de Nuit
Enigma Variations
Nimrod
Noel Gay
Leaning on a Lamppost
Gardel
Por Una Cabeza
Gershwin
Summertime
Someone to Watch over me
A Foggy Day
Love Walked In
Somebody loves me
Gluck
Melody
Grieg
Serenade
Handel
Hornpipe
Where're You Walk
Arrival of the Queen of Sheba
Largo
Haydn
Serenade (String quartet Op. 3, No. 5)
Quartet in C
Andante
Adagio
Menuett
James Bond
007 Theme
Nobody does it Better
Goldfinger
You Only Live Twice
From Russia with Love
Live and Let Die
Johnson
Pennies from Heaven
Joplin
Paragon Rag
Country Club
Bethena
Roseleaf Rag
Lemare
Moonlight and Roses
Lennon/McCartney
World Without Love
Good Day Sunshine
Hey Jude
Yesterday
Get Back
Lloyd Webber
Don't Cry for Me Argentina
Massenet
Meditation
Menelssohn
Adagio
Sehnsuchtig
Canzonetta
Mozart
Rondo alla Turca
Adagio in C
Allelujah
Eine kleine Nachtmusic
Divertimento in D
Divertimento in B
Divertimento in F
Quartet in G
Quartet in C
The Marriage of Figaro
Ave Verum Corpus
Offenbach
Barcarolle
Pachelbel
Cannon & Gigue
Cole Porter
Anything Goes
Every Time We Say Good-bye
Purcell
Sound the Trumpet
Trumpet Tune
Ravel
Bolero
Rice/Ulv/And
I Know Him So Well
Saint-Saens
The Swan
Schonberg
I Dreamed a Dream
Schubert
Ave Maria
Standchen
Moment Musical
Schumann
Thou Ring on my Finger
Kinderszenen
Sherwin
A Nightingale Sang in Berkley Square
Strauss
Tales from the Vienna Woods
Blue Danube Waltz
Sullivan
Mikado
Tchaikovsky
Waltz of the Flowers
Symphony No 5
Romeo and Juliet
Traditional
Greensleeves
Verdi
Andantino
Vivaldi
Summer
Wagner
Bridal Chorus
Photos of DPS
Book DPS
Want to book a performer, or just find out more? Give us a call on +44 (0)208 8291140 or use our online contact form via the button below.