Doc Insane – Bizarre Circus Freak Show | UK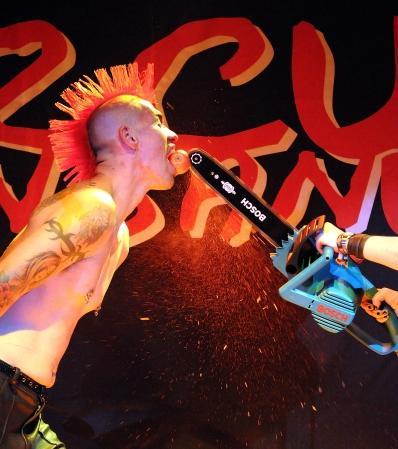 Doc Insane
Cabaret will never be the same with this circus cabaret 'freak' show!
The worlds most extreme circus performer, deemed so extreme he's been banned from countries, venues and even appearing on British TV following bookings with shows such as The Charlotte Church Show, Guinness World Records and the Paul O'Grady show.
Accompanied by music, comedy and audience participation Doc performs a whole host of insane acts. Depending on the show these can involve; stapling paper to his head with a heavy duty staple gun, escaping from a genuine straight jacket, lifting weights with pierced body parts and hooks in his eye, hammering a nail and driving a power drill through his face, stroking fire across his body and down the front of his trousers, angle grinding, eating huge flames of fire, laying sandwiched between two beds of nails and inviting a member of the audience to stand on top of him, feasting on glass and insects, acting as a human dart board with darts thrown into his body, releasing a mouse trap on his fingers and his tongue, knife juggling, suffocation, having a chainsaw put to his face, blind knife throwing and in the most extreme act of all Doc puts his face into freshly smashed glass before inviting a member of the audience to stand on the back of his head, letting the audience hear the glass break in his face!
There are no illusions! No fake blood! Everything you see is very real!
An international artists, Doc continues to perform his freakshow to audiences all over the world from the Middle East to America. With Circus Insane he is available with aerialists, beautiful assistants and a rock band. Doc has also performed on the same bill as some of the biggest names in Metal including Helloween, Europe, Craddle of Filth, Overkill, Nightwish, Opeth, Sodom, Napalm Deth, Blind Guardian, Evile, Blaze Bayley, Primal Fear and Saxon to name just a few.
Standard Length of Performance: 60-90 minutes
Testimonials:
"A Certified Loon."
– Metal Hammer Magazine
"Dirty Sanchez and Jackass are weak! Doc is the real deal!"
– The County Times
"If you think Jackass is mad, wait 'til you see Doc – total crazy insanity."
– City of York Council
"Doc is completely mad! And the audiences loved it."
– Greystones Festival
"Makes Jackass look like a Punch and Judy show."
– Bloodstock Open Air Festival
"Doc Insane & Laura were brilliant, it was the best Xmas party ever. Doc Insane was on the edge and the staff loved him… I will definitely recommend Contraband to my clients and hopefully they will get in touch."
– Sold Out Advertising (via Contraband)
Previous Clients Include:
Bloodstock Open Air Festival
Greystones Festival
York City Council
Summerbreeze (Germany)
Boomtown
Bearded Theory Festival
Rumpus
Symmetry Festival
and Greystones festival by the Way is in Ireland
Photos of Doc Insane