Digital Scalextric – Scalextric Track | UK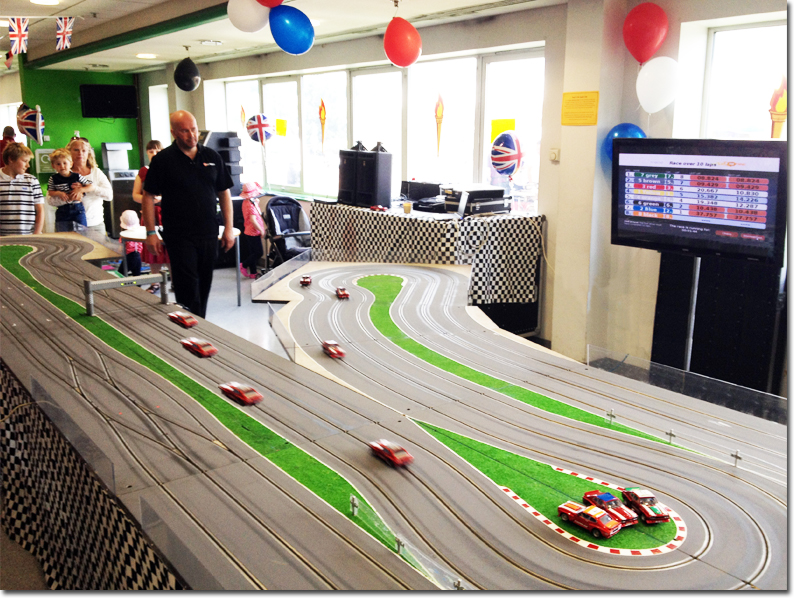 Looking to hire an impressive Digital Scalextric track for your event? They can provide a fast-paced thrill ride for your team building or corporate event.
Their expertly-built computer-controlled digital system offers the ultimate in slot-racing, multi-car racing with lane changes !
Everyone remembers racing slot cars from their childhood, so why not relive those nostalgic moments. Bring out the competitive spirit and see if there are any budding Lewis Hamiltons amongst your customers, friends, family or colleagues.
Races are computer controlled; i.e. start and finish line functions are controlled and recorded by computer. They can program the number of race laps and control the individual maximum speed of the cars. The computer software will present us with the Race winners overall time and fastest lap time of each car during the race.
Races are started by TV visual Grand Prix style traffic light system (i.e. 5 on screen red lights counting down to the green) viewed from a laptop on a plinth. They can also supply a larger plasma and stand for better effect but can be employed locally more cost effectively.
Their professionally built system offers the ultimate in slot racing. There are no small push together track sections. All pieces are precision milled into large boards and the copper pick up cable inlaid into the board for optimum voltage continuity and smooth running. Digital is a relatively new concept in Scalextric and unique in corporate entertainment systems. 8 cars race on 3 lanes with automatic lane change overtaking manoeuvres! Their specially developed handsets cut out the need to press additional buttons for the overtaking move. Racers simply squeeze the trigger like a car accelerator for speed control.
With 8 cars on 3 lanes the racing is highly realistic. The 'chips' inside each car detect when a car is within a 10cm distance of a car in front. When this occurs, a high speed track point sends the car behind into a different lane. When 3 cars are in close proximity, the track will automatically send them onto 3 different lanes in one spectacular movement. As you can imagine this new overtaking is great fun as a player but also a compelling spectator attraction.
On arrival, each player is assigned a colour coded hand control corresponding to the same colour car on the grid. Player's names are taken so the race / lap times can be announced. The basic instructions, tips and rules are explained in a short brief via the PA system. The 8 cars start on a staggered grid by the GP traffic light system. Depending on the volumes of players, there are a number of race styles to suit. Commonly, we operate an 8 player race over 10 laps. This takes around 1.30 seconds in total. After each race, the player will move along 1 space to race with a different colour car and after a short briefing, the next race starts. The 'Championship' can take place over 4 or 8 races. Championship can be decided on the fastest race time or lap time of the day – (the most popular) or a more complicated points system used. However the point's championship is best done with a static audience at a conference or team build event rather than a floating audience like a shopping centre.
On completion of each set of 4 or 8 races, a new set of 8 players are welcomed and the procedure starts again. Times recorded and presented to management at the end of the day.
Minimum space requirements 4.5m x 2.5m
Standard Length of Hire:
The tracks are usually hired for 4-5 hours.
Photos of Digital Scalextric