Delia – Contortionist | UK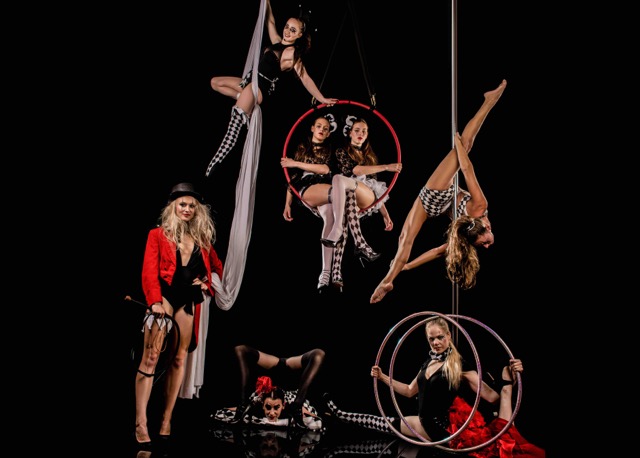 Delia was born into show business. Her parents performing an acrobatic speciality act, it was inevitable she took up the profession. Delia trained as a classical dancer and contortionist. She then went on to also train at aerial hoop and silk. Now performing worldwide in theatres, television and corporate events with all her acts, which combine balance, strength and extreme flexibility. The contortion act concludes by squeezing into a 21″X 17″X 17″ perspex cube. Delia has received national press coverage for the cube act and been a guest on television shows such as Graham Norton and Richard and Judy.
Duo Contortion Show
Delia also performs in a duet with her sister Yvette. Delia and Yvette have been practicing circus skills since the ages of 5 years old taking it to a professional level at the ages of 16. They have been performing their duo acts together for the last 5 years. Delia and Yvette as a duo act have performed their aerial silks and contortion skills all over the world in Europe, UAE and Asia.
Asylum Contortion:
This dark and eerie 5 minute act is performed both on a raised table and on the stage area.
It begins by performing contortion in a straightjacket and finishes by getting inside the small Perspex box.
Additional Halloween themed costumes like Snake and Cat woman are also available. These can be used for ground contortion or aerial.
Standard Length of Performance: 3 x 10 minutes sets. The duo contortion act is 6.5 min in length
Technical Requirements: Contortion needs 10 x 8 ft stage area. Delia will provide her own table to work on. Table dimensions are: height – 1ft, width and length – 2ft x 3ft.
Duo Contortion Show: stage of 8 x 4 foot min and 2-3 foot off the floor.
Testimonials:
"We absolutely loved Delia. All performers were superb and it helped make our night an absolute winner. I'll definitely be coming back to you in the future for other entertainment."
– Hillsong Church
"That was great. She was very good and she did well with the elements. She adapted the program to the vibration and to each carriage. I've had great feedback from the guests who were amazed by Delia. Honestly I have only positive feedback to give you. I thank you and Delia."
– Ballwatch
"Thank you all for your help, the girls were amazing and fun to work with. I hope they enjoyed working with us. Please pass on my thanks to all of them and hope to work with you another time."
– Photo-Me International Plc (via Contraband)
"…I think our event worked perfectly. Des was outstanding, the contortionist very entertaining, the acrobalance couple were subdued and romantic…."
– YPO London Mayfair (via Contraband)
Previous Clients Include:
The Theatre of Science
Charles Dickens Musical 'Hard Times'
The Royal Opera House
Toni & Guy
The Royal Albert Hall
Swamp Circus Theatre
The Tonight Show
V Graham Norton
This Morning
Teachers
Jonathon Creek
BBC
ITV
Channel Four
The Hidden Camera Show
The Generation Game
The Danny Baker Show
London Tonight
The Disney Club
Richard And Judy
Cadburys
RAC
Lambrini
Discovery Health Channel
Virgin Mobile
Yapi World Credit Card
"Take That" The Ultimate Tour
Sir Elton Johns Party
"Blue" UK tour
NEC
Nottingham Arena
Wembley
Rolling Stones Concert
BMW
Levis Twisted Jeans
Hilton Hotel
Grosvenor House
Asprey and Garard
Selfridges
Christian Dior
Wella Hair
Langham Palace Hotel
Italian Vogue
Renault Espace
Britvic Orange
Swear Shoes
Folding Doors
ID
Singapore Technologies Engineering
Nike
Orient Express
Domino Flooring
Don Burr
Pink Floyd
JCB
Ford
Body Beautiful
Asset Ware Technology
Adidas Fashion Show, Laban, London (Dance and Modeling)
Range Rover, Olympia, London (Contortion Duo)
Cannes Festival Glastonbury Festival
Padderbourne Festival
Photos of Delia