Dee Christopher – Famous Magician | UK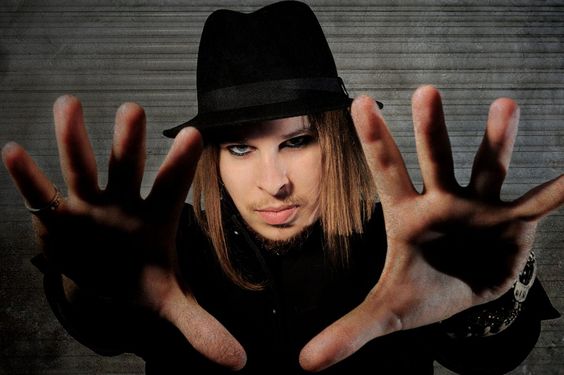 A charmer, a true "rock n rolla" and a master of deception and trickery, Dee is the UK's leading alternative magician. Dee mixes a rock and roll attitude with a quick wit and a varied skillset to create a unique brand of high-impact, ultra-slick corporate entertainment. If you would you like to have Dee Christopher perform at your private or corporate event,  make Contraband International your preferred booking agent.
Using techniques drawn from over a decade studying mysticism, witchcraft and the techniques of real psychics alongside an expert level of sleight of hand, Dee creates a performance like no other, crafting a mind blowing collage of contemporary magic and psychological deception. Dee is one of the world's leading experts in 'psychokinetic magic,' or 'mind over matter' as it is more commonly known.
On stage, youll see Dee putting his life on the line with incredible demonstrations of danger-fueled mind-reading, such as the critically acclaimed "Russian roulette with power drills. Close up, you can find Dee intermingling with your guests bending spoons, reading minds and demonstrating amazing feats of pure sleight of hand with playing cards.
With national TV appearances and international press coverage, Dee is guaranteed to blow your mind and leave your guests talking about your event for a long time to come!
Standard Length of Performance:
Dee usually performs 2 hours of walkabout but this can be longer if required.
Dee can also perform a stage show that can be tailored to suit the timing of your event from 10 – 60 minutes.
Testimonials:
""He will blow your mind like someone stuffed TNT in your lugholes."
– Bizarre Magazine
"Dee is one of the most skilled and talented mentalists that i have met throughout the last 8 years of engaging, testing, judging and watching amazing individuals perform in front of me! His look is cool, mysterious and he projects an aura of mysticism around himself and throughout his act! If you want to be mystified and astonished, I highly recommend him!" 
– Uri Geller
"Burn the witch!"
– Neil Morrissey
"Stuntman with a screw loose!"
– Bizarre Magazine
"You are f*cked in the head man!"
– Plan B
"What the f*ck?! This guy is insane!"
– 36 Crazyfists
"F*ck off. That's unbelievable."
– Vicky McClure (This is England)
"This guy is brutal! A quality magician, be it close up magic or one of his amazing stage shows. Book him…see him, you won't be disappointed you did! The Club AntiChrist audience LOVED him so much so even we just re-booked him!"
– Club Antichrist
"Youd be forgiven for your skepticism – magic tricks arent generally something I hold too much stock in. However, within moments, Dees combination of charm and wit had successfully won over the audience. An air of brilliant insanity enshrouded his performances he masterfully defied his viewers expectations with a plethora of mind tricks – including a power drill to the eye – keeping the captivated crowd anxiously on edge."
– Leedsmusicscene.net
"Dee is a genuinely talented and fantastic performer. He has great presence and a wonderful way with the audience even when put in a compromising situation. He is funny, witty and has a knack for getting the crowd to participate, we will certainly be booking Dee for more shows in the near future and are looking forward to seeing his new act this year."
– Devolution Magazine
"Dee is a truly innovative performer! He has entertained guests at several of my events and whether on stage, doing walkabout in a crowd or between tables his unique brand of illusion baffles everyone. The reaction from guests is always amazement and shock, it's a joy to watch him at work! His attitude is professional at all times, making him easy to deal with and reliable. He is also great at adapting his acts for different events & audiences. He is certainly not your typical magician, he brings masses of style, sophistication and originality to his art form, I would not hesitate to recommend him!" 
– Charlotte Thompson Events
"Was all fab! Thanks so much, everyone loved it….."
– Primesight Ltd (via Contraband)
Previous Clients Include:
Microsoft
Samsung
Bizarre Magazine
DHP Events (Rock City, Nottingham)
The Tech Guys
Vent-Axia
Capita
Talk Talk
Ikea
Goosedale Corporate Events
Capital One
TCG
Eerie Pubs Co.
Photos of Dee