David Brent & Gareth Keenan – Lookalikes | UK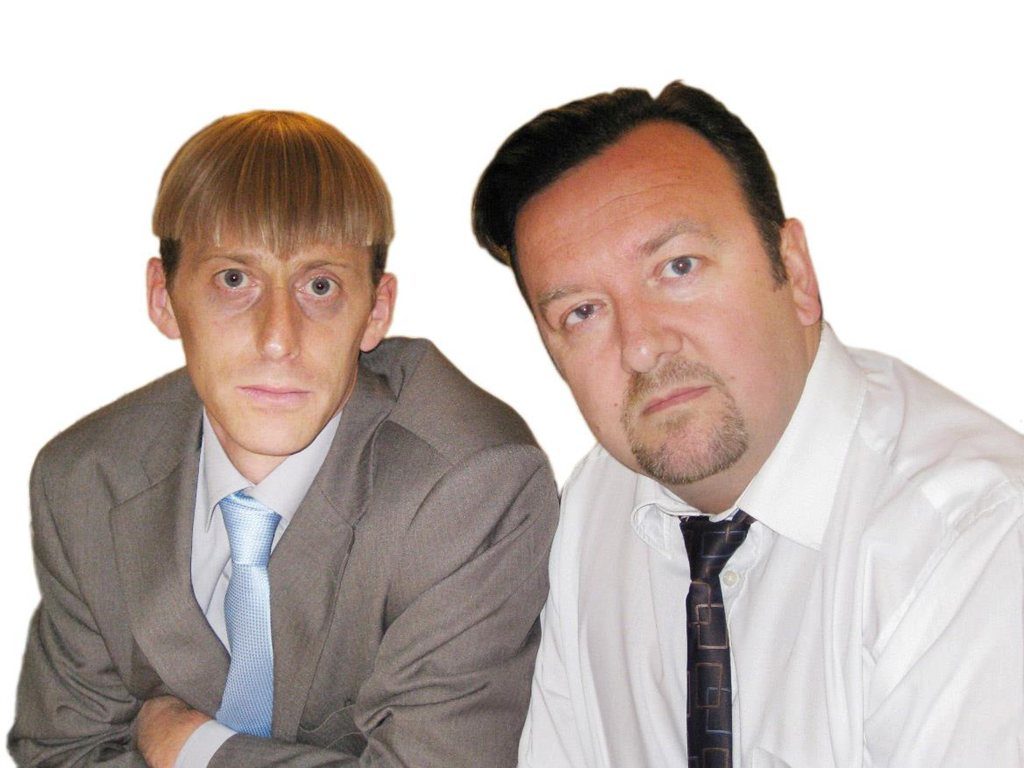 David Brent
Here is Tim as the star of 'The Office' David Brent. Tim is fantastic as the wacky TV star with his now famous dance and one liner's and has appeared at numerous events, promotions, parties and exhibitions.
Tim also won best comedy lookalike on Stars and Their Doubles 2005 and appeared on Channel 4's Richard & Judy as David Brent reviewing the new American Office. If you want to create media and public interest at your next function then book Tim to appear as David Brent and give your guests and friends an evening to remember.
Gareth Keenan
Brett is THE Gareth Keenan and Mackenzie Crook look-alike and sound alike.
Brett has provided entertainment to corporate clients across the world as a professional magician, juggler and entertainer for over 12 years.
When people stop you during the middle of a show to ask if you were in the BBC documentary "The Office" you know its time to get together again with David Brent to form the "Ultimate Office Duo".
"Just look at my credentials, I can deliver your message and get the facts across. I use discipline where others may use humour, if you're laughing in the jungle you are going to give away your position to the enemy. You know what I mean."
Tim and Brett are not just incredible look-alikes of David Brent and Gareth Keenan, from the BBC comedy series The Office, they are the comedy double act of the modern era and refer to themselves as a modern day Laurel and Hardy! They can meet and greet or just mingle with comedy 'Brentisms', close up magic and that dance. If you want more, David and Gareth can give you a 30-40 minute show. Their comedy is impromptu, quick witted and taken straight from the most successful comedy television series of the new millennium. If you want something different and entertaining to make a huge impact, then these guys are perfect!
Standard Length of Performance: The show is 30-45 minutes and the mix & mingle / walkabout performance is approximately 3 hours.
Testimonials
"Tim IS David Brent. He looks like him. Talks like him. Acts like him. Is his Height/Shape/Weight/Colouring. As I approached the filming location, I spotted the Brent Meister General in the doorway. I thought. "My God, the real thing has turned up!"Then, all my hopes for the TV feature became reality. Tim ad-libbed as if scripted. He was helpful, funny and professional. What a star! And that DANCE!!!"
– G. C. Sky Sports Reporter
"I am writing on behalf of Carlsberg UK, who happily hired Tim for their FA Cup Second Round PR activity that took place at Slough Town FC, November 2004. Ahead of its FA Cup Second Round Game, Slough Town FC received a motivational talk from local expert, 'David Brent', star of TV series, The Office, and ex-head of paper supplier Wernham Hogg (Slough) and both national and local media covered the event. Tim was an absolute star on the evening and completely won over the media that attended and subsequently, Sky Sports News ran a four-minute feature that ran throughout entire day following the event."
– Carlsberg UK
"The event went very well and a good night was had by all. Needless to say Tim went down a storm."
– Investec Bank (Channel Islands) Ltd (via Contraband)
"Tim was great thank you – it was very odd meeting him at reception and immediately finding him in full character! He was very convincing. I felt he grasped the brief we gave him very well and sufficiently embarrassed our Directors! We particularly enjoyed the David Brent dance at the end!…..Thanks for all your help with organising Tim's appearance."
– Rackspace (via Contraband)
Previous Clients:
Microsoft Office 2010
BMW
Barclays
Wernham Hogg
Slough Chamber Awards
Photos of David Brent & Gareth Keenan Lookalikes