David – Balloon Modeller | Berkshire| South East| UK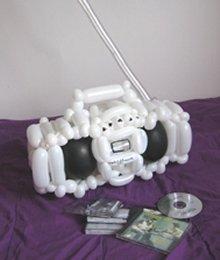 David
David creates stunning and intricate models in a literally endless array of designs. He can create bespoke sculptures for you 'off the cuff' or for something larger (product launches, movie releases, weddings, themes etc.) pre-designed and pre-made.
David is available for entertainment (adults and children), workshops, team-building or giant sculpture – 'work or art in progress' type performance.
David's background in philosophy, arts and crafts and sleight of hand magic sees him ideally fit as a balloon artist. As well as balloons on their own, he can of course provide the ultimate combination of top range balloons and top of the range close-up magic.
David has appeared on BBC television and is featured in the Guinness World Record's for his sleight of hand act.
Standard Length of Peformance: 3 hours
Testimonials:
"Hugely talented"
– The Independent
"An incredibly dexterous balloon artist"
– London Evening Standard
"Brilliant"
– Alan Shaxon, President of The Magic Circle
"Special thanks to the person who booked the balloon man. He had our attention for hours!"
– MediaCom
"We all thought you were fantastic!"
– Taylor Herring Brand Communications
"Excellent Balloon Characters, especially Mr Sneeze!"
– Private Client
"The Best!"
– Jacqueline Wilson, OBE, Children's Laureate
"We couldn't have the party without you!"
– Damien Hurst
"A massive thank you for today. You were amazing! Hope you got home safely. You must be shattered"
– Private Client
Previous Clients Include:
Taylor Herring
Mediacom
Honda
Waterstones
Harrods
Mail on Sunday
Nikkon
Mercedes
BMW
Jaguar
WH Smith
Camelot
Domestos
Wella
Johnson and Johnson
Trader Media Group
Gala
Sainsbury's
Royal Bank of Scotland
Mastercard
Debenhams
Peter Green
Alexander Forbes
T Mobile
PGA European Tour
The Royal Television Society
Marriott Hotels
Holiday Inn Hotels
Samsung
BNP Paribas
Selfridges
Fiat
Ministry of Sound
John Lewis
Marks and Spencer
Magic FM
Carluccios
Pontins
Bupa
Peugeot
Balfour Beatty
Photos of David