Dave – Bespoke Human Statue Character | UK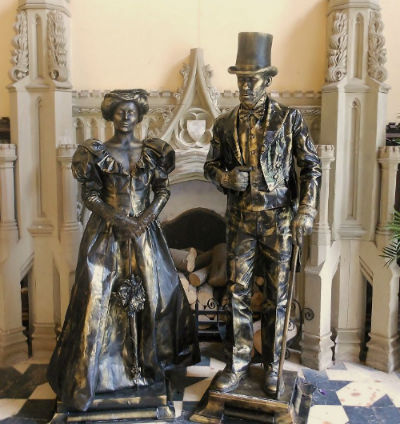 Dave and his team have many years of experience in providing human statues. They are an amazing way to entertain and there are many different styles, colours and costumes to suit any event. These statues stand motionless, suddenly 'coming to life' with movement, or a tap on the shoulder. Dave has the ability and repertoire to fit into a vast array of different situations, depending on what the client requires.
Themes Available Include:
Hollywood
From cowboys to the Oscar award, Dave can pretty much pull anything out of the Hollywood bag!
Roman and Medieval
King Arthur and roman centurions are all included. Dave can be a gladiator or a medieval soldier, iconic and recognisable, they command attention. There is something for everyone in these classic cross sections of history.
Angels
Angels come in many forms, but none quite as stunning as Daves. He can play Cupid with his bow and arrow poised, making all your guests or clientele feel love struck.
Classic
Greek classics are a timeless and popular choice for any event. Garden Party or Olympic party, he has different poses for different occasions. A Discus thrower harking back to the first Olympics, or a strong classic greek man perfect for indoor or outdoor events.
Other Options Available Include:
Daniel Craig James Bond
Olympic
Chocolate Man
Jockey
Ice Man
Silver Gent
Ice King
Cowboy
Standard Length of Performance: 2 x 45 minute sets, 1 x 90 minutes long set without a break, or 6 x 30 minute sets for exhibitions and longer events.
Testimonials:
"Gold statue was fantastic! Would recommend this to all events as this man was superb - had everyone's attention the whole time he was in view..."
- Alantis Arena
"The event was a huge success and all the acts were brilliant especially Dave, Pamela (human statues) and Karen. We would not hesitate to use them again!! Thank you"
- Peppermint Productions
"David and Pamela were really superb and just a truly lovely couple."
- West End Studios
"The event went really well. Everyone really loved the performer. Many thanks again for your help and we look forward to working with you again soon."
- Swatch
"The event went very well and both performers were great - on time, very professional, and did a great job. I will highly recommend them to any event.
Thank you also for all your help for this slightly unusual event."
- Imagination Europe
"Feedback from our event on Sunday was great everyone really enjoyed themselves and the entertainment went down very well. "
- BGC Partners (via Contraband)
"The acts were all great! We were on our trucking deck looking down when the torch arrived there was such as great turn out and it gave a real buzz to the town."
- First Investments Ltd (via Contraband)
"Yes the weekend was amazing! I was so impressed with the acts we booked!..."
- EDF Energy (via Contraband)
"Were back and my first thought was to email you and thank you and your team for your help making a wonderful day on 23rd. I cant believe its over a week ago now. While we were away we had flashbacks of points throughout the day, everyone we have spoken to said it was one of the best/the best wedding they have been to and we (of course) feel the same! It really was a special special day and thank you to you for arranging our human statues so quickly. They really added to the afternoon drinks and canapes reception, we didnt tell anyone we had booked them and the kids absolutely loved them. They were no trouble at all, left our room in pristine condition after using it to get ready in and really added to the day."
- Private Client (via Contraband)
"Your performers are fantastic! Each and everyone of them! The statues went down a storm – lots of photos being taken and jumping back by people who were very surprised when they moved... And they were all so nice - and very sympathetic about the last minute change of venue and the timing challenges that meant for us. They were all great...It was a pleasure working with you and I look forward to our next event together."
- Aspect Ltd (via Contraband)
Previous Clients Include:
Swarovski Crystal
Arsenal FC
La Senza Lingerie
Conservative Party
Oxford United FC
Four Seasons Hotel
Hilton Hotel Group
Lord & Lady Archer
Party at the Palace (Queen's Birthday Celebrations)
Ascot Racecourse
Chelsea FC
Monsoon
BBC
Channel 4
Alliance & Leicester
Carphone Warehouse
Nokia
Thorpe Park
Photos of Dave