Daniel – World Record Football Freestyler | UK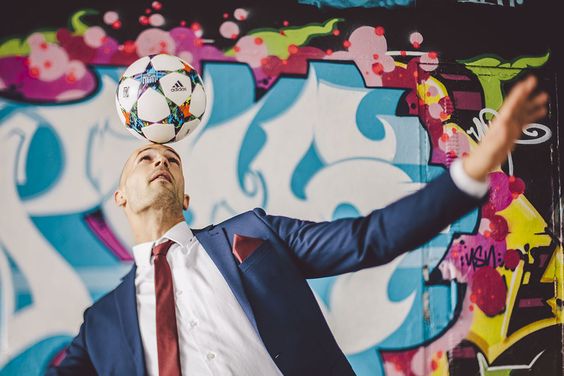 Daniel is a Professional Football Freestyler and three-time Guinness World Record Holder. He is also a rugby freestyler and is great for rugby, football and all sporting themed events. He has a wealth of experience in performing and entertaining, whether to a small crowd of children at a birthday party or to 75,000 at the Gadget Show Live at the Birmingham NEC.
At the beginning of his career in 2006, Daniel won a national competition with Pringles and was crowned the UK Pringles Keepy-Uppy Champion. Since then he has gone from strength to strength, doubling for professional football players such at Real Madrid star Kaka, adverts for Carlsberg and Aon, and displaying his skills all over the world including Europe, the USA and South Africa. Over the last 5 years he has honed and perfected his skills, as well as developing his own unique style. Daniel's performances offer more than simply football freestyle as he takes inspiration from other creative art forms, such as break dancing and gymnastics, which he incorporates into his performances. Daniel is a born entertainer, a performer at the highest level, and his personality and interactive social skills ensure he can connect with any audience in any situation.
Earlier this year Daniel achieved a lifetime ambition by becoming a Guinness World Record Holder. He holds three World Records of various football freestyle tricks including the faster 100m sprint with a football balanced on the head, which took him only 18.53 seconds!
In addition to this, he also leads skills workshops where people of all ages get the opportunity to see Daniel in action and be taught from one of the UK's finest freestylers but who remains approachable.
As a natural athlete, Daniel always displayed characteristics that are essential for the art of freestyle. His balance, co-ordination, body management and agility ensure that he has ultimate control of the ball. Daniel has realised that the determination, discipline and dedication needed for football freestyling was not only something to be admired, but could also inspire others. Daniel is also a sports model, and has been used by companies to promote different products.
Standard Length of Performance:
Daniel can perform a set show for any length up to 8 minutes. This can be longer when using interaction from the audience if suitable. These performances can be repeated as often as needed and obviously be varied each time if necessary.
Testimonials:
"I wanted to re-iterate our sincere thanks and appreciation for the fabulous demonstration you undertook for us. Your contribution to our event provided us with the inspirational finale we were looking for. The feedback we received following the event has been extremely positive. Many thanks from all of us at Aspire for helping us celebrate our launch in style!"
-Aspire
"Carlsberg had the pleasure of working with Daniel at a consumer experience event in Liverpool One. Daniel obviously has amazing freestyle skills and he played a vital role in creating the wow-effect Carlsberg was looking for. His combination of tricks and athleticism definitely impressed everyone! Furthermore Daniel showed high professionalism and flexibility, and we have been very happy to book Daniel for other Carlsberg events after working with him."
-Carlsberg
Previous Clients Include:
UEFA Champions League
E-on
Carlsberg
Adidas
The Gadget Show
Sky Sports
Pringles
Heineken
BBC
Aon
Super bock
Sony
Photos of Daniel