Collin – Street Magician | UK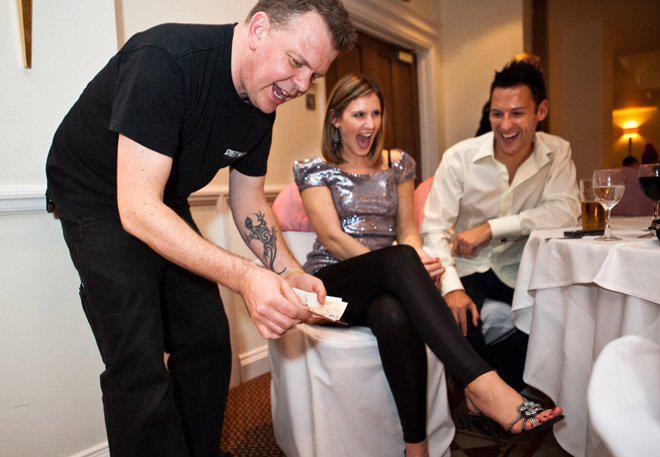 Collin
Collin's image and fresh approach to magic have caused quite a stir in the world of corporate entertainment. With years of experience entertaining people, his visual brand of street magic using only everyday objects such as money, cards, spoons, rubber bands and nails, continues to amaze and astonish everyone. This talented magician is a versatile performer, using the materials around him he fits into any occasion.
In keeping with his street magic style, Collin performs in smart black jeans and short-sleeve shirt, thus destroying the myth that objects vanish up a magician's sleeve!
Prestigious events Collin has performed at recently include, the aftershow party at The Brit Awards 2008, in Chicago for Virgin Atlantic and HRH's party at Buckingham Palace.
Standard Length of Performance:
90 minutes.
Testimonials:
"That was stormin'… Usually I'd punch someone for doin' my head in, but I'm actually going to shake your hand"
– Vinnie Jones
"He baffled all the guests and helped make the evening a great success"
– Jersey Lily
"That was incredible"
– Rick Parfitt from Status Quo
"Everyone was talking about your performance after you had left and they all said it was the most amazing thing they'd ever seen"
– Private Client
"Thank you for making my daughter's wedding a truly memorable day"
– Private Client
"A pleasure to work with a professional who knows how important every aspect of the event is, timing of the delivery to the quality of service"
– Private Client
"Carollers set the tone for the evening, and people are still scratching their heads re Collin's tricks, yes they both hit the spot! "
– Element 7 (via Contraband)
"Last night was an amazing success. Collin was great, we have had  fantastic feedback from our clients who were very impressed with him and his skills. He was a pleasure to work with last night. I would certainly recommend him and would have no hesitation about booking him again next year. Many thanks for your help with the booking and I look forward to dealing with you again soon."
– Radley James Ltd (via Contraband)
"…Colin was also absolutely fantastic – so friendly and again – had a fantastic amount of talent. He managed to engage the whole of the tables as well…."
– Neptune Investment Management (via Contraband)
"Collin was great! Fantastic tricks that no one could fathom out how he did them…even me who saw a couple of tricks a few times each! He was punctual and professional and his relaxed manner fitted our summer party perfectly. I would strongly recommend him to anyone looking for some street magic."
– Red Consultancy (via Contraband)
Previous Clients Include:
Virgin Atlantic
Brit Awards 2008
Buckingham Palace
BBC
ITV
HSBC
Hewlett Packard
PC World
GSK
NFL (National Football League)
Sony Ericson
Mercedes
Woolworths
BT
Friesenkrone
Dolby
Photos of Collin