Claudia – Contortionist | UK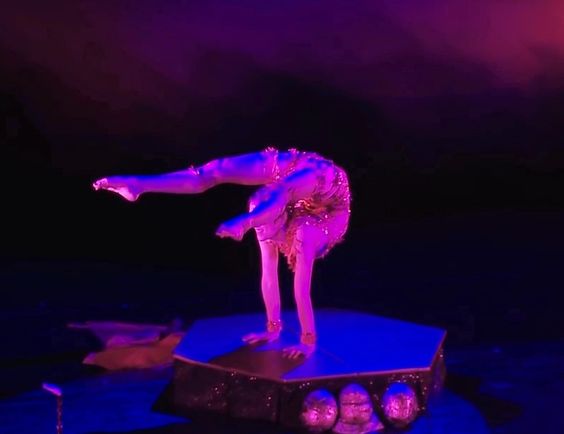 Claudia is an extreme contortionist whose performances include amazing handstands, unbelievable moves such as triple fold, and marinelli bend, which is considered to be one of the most difficult and dangerous contortion positions
Claudia takes contortion to a new level, leaving the audience feeling they have witnessed the impossible.
Claudia's ambient performances are improvised sets of 7 to 10 minutes to the venue's own music, and can be performed at floor level or on any sturdy surface eg bar, DJ stand, podium, tables etc. It's a great way to add atmosphere to an evening, leaving people amazed, filming on their phones, and everyone always wants to pose for a photo with the contortionist!
Claudia has lots of different costumes to fit different themes or seasons, and can perform contortion in heels or en pointe.
Standard Length of Performance:
Claudia's intense acts are between 4 and 6 minutes, and Claudia can bring her own table or use the venue's podium etc. Claudia's ambient performances are improvised sets of 7 to 10 minutes
Testimonials:
"You are amazing!"
– Dawn French
"It went BRILLIANTLY! You were an incredible star! We loved it – thank you so much!!!!!"
– Alex Haw
''You left us all speechless! Still spinning in my mind …''
– Cinzia Cremona
''We have not stopped talking about you'' 
– 1927
''Thanks so much for your gorgeous work on NYE. Incredible!!!!''
– Fox & Badger
''You were fantastic and I found you very professional to work with.''
– Chelsea Arts Club
''Flawless entertainment… the fabulous Claudia whose contortion act made our eyes water''
– Food Show Ltd
''Contorting The Night. A #contortionist leaves the crowd #breathless with her #haunting #performance. Seen at The Arches, #Waterloo, #London''
– What Compo Saw
''Claudia had the audiences on the edge of their seats with her amazing display of contortion''
– Circus Maximus blog, Udderbelly Southbank event
''Tiny contortionist Claudia Hughes outshines…''
– The Stage
"Flawless entertainment… the fabulous Claudia whose contortion act made our eyes water"
– Food Show Ltd
"Contorting The Night. A contortionist leaves the crowd breathless with her haunting performance"
-The Arches, London
"Claudia had the audiences on the edge of their seats with her amazing display of contortion"
-Udderbelly Southbank
Previous Clients Include:
Universal Studios Movie
WB Movie
This Morning ITV
Blackpool Tower, Blackpool's Annual Festival Of Circus & Performance, Showzam
Hamswell Festival
Mimbre Circus Central, Hackney Festival
Udderbelly Festival, London
TFI Friday. Channel 4
Officially Amazing CBBCs
Asda Halloween Online Commercial
The Vamps "Rest Your Love" Music Video
Holt Festival
Gareth Pugh
Powwow
Rah Rah Room Electric Carrousel
Spiegeltent
London And Canterbury Festival
Toni And Guy
Barbican Centre
Leicester Square Theatre
Coventry Ricoh Arena
Oxford University Ball
One Marylebone
Westbury Hotel
The Vaults Waterloo
Cabaret At Scarfes Bar
The Savoy Hotel
Chelsea Arts Club
Flemings Hotel
O2 Indigo
Clive Arrowsmith
Icetank
Shaka zulu
London BBC
Officially Amazing TV show
Holt Festival
Barbican centre
London Claygate Ltd
London coventry ricoh arena
Coventry flemings hotel (Private party)
Chelsea arts club
Photos of Claudia