Circo Vikings – Stilt Walkers | London | UK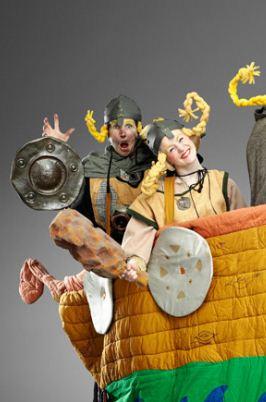 Circo Vikings
Helga, Olga and Vulgar are three Viking warriors in a dragon-head longboat. Armed to the blackened teeth with brazen breast-plates and pert blonde plaits, they have charted history's waters and come to invade Anglo-Saxon England. They will pillage your village, rattle your cattle, smoke your hamlet and take tribute money from King Ethelred. He's unready… are you?!

Circo Vikings are a troupe of truly professional female performers who are dedicated to street theatre. We fuse a distinctive mixture of circus, physical theatre, elaborate costume and extravagant props to create a surprising exhibition of show and spectacle. Our skill with an audience has been described as both ' touching' and 'exhilarating'. We are committed to our audiences and are equally engaged with an individual as with an audience

Circo Vikings are easy to work with. We are courteous and flexible and have performed world wide at venues ranging from pop stars' parties to small shopping centres, large international arts festivals to Buckingham Palace! We are enthusiastic and energetic and aim to present the highest standard of innovative, inclusive and exciting street theatre.

Standard Length of Performance:

Walkabout acts: 3 x 30 minutes or 2 x 45 minutes or 90 minutes meet and greet.

Testimonials:

"I just wanted to write and say how wonderful Circo were at Buckingham Palace. You were definitely the stars of the pre-concert entertainment and featured in so many photos that you will be an integral part of many people's memories. Thanks so much for being so fantastic".
-BBC

"You know you've got the best when you've got Circo."
-Darlington Council.

"You girls are so funny!"
-Ruby Wax

"They were amazing! They went down really well and everyone loved them!"
– Frog Box Marketing

"What can I say – brilliant as always! My husband followed you all the way down the main street he was so entranced"!
– Oyster Festival

Private Clients include:
Her Majesty The Queem
HRH Prince Phillip
HRH Prince Charles
HRH Prince Andrew
Crown Prince of Saudi Arabia
Sir Elton John
Bill Wyman
Oppenheimer Family
Corporate clients include:
BBC
Boots PLC
Cancer Research UK
Citroen
Centreparcs
Harrods
Linde Lansing
Maclaren Forumla 1
M & S
Microsoft
Nissan
PWC
Pfizer
Rolls Royce PLC
Selfridges
Photos of Circo Vikings
Book Circo Vikings
Want to book a performer, or just find out more? Give us a call on +44 (0)208 8291140 or use our online contact form via the button below.