Chris Cross – Walkabout Magician | UK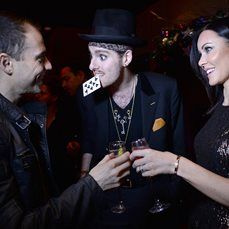 Chris Cross is an escapologist, magician and stand-up comedy contortionist. He travels the world performing big shows for audiences of thousands. Standing at 6ft 6″ at the age of 21 this cheeky Geordie is one of the top cabaret acts in the UK and performs his acts anywhere desired: big stages, small stages, arenas, theatres, in the middle of the street, upside down, on an escalator, on a bus, at corporate events, festivals, product launches/promotions, award ceremonies, student unions, cabarets/theatres, galas and anywhere else. Chris has his acts mastered, he will turn your frown upside down and your stomach inside out.
Chris performed in the Britains Got Talent auditions where he amazed Simon and Piers and had Amanda hiding behind a cushion! He also entertained the studio audience and thousands watching at home with his truly incredible contortion stunts!
Comedy Cabaret Magic Show and Close Magic Walkabout
Alongside escapology & contortionism, Chris is an accomplished magician and multi award winning member of the northern magic circle. Chris performs tricks with bannanas, bras and balls. This act is highly energetic, funny and he will trick you. If you want a rabbit coming out of a hat please look elsewhere.
He is one of the most popular close-up magicians in the country in high demmand for his services. He stands way out from the crowd like a towering giant adorned in yellow and black who is a wizard with a deck of cards. Chriss card skills are second to none. Its not just pick a card, pick any card, during Chriss tricks he makes the cards vanish, reappear, change colour, appear in his mouth and change into a block of glass!! A hit at any event.
Standard Length of Performance:
Chris Cross usually perform 2 hours of walkabout magic.
Testimonials:
"Cool and funky act"
– Simon Cowell
"A real throwback to music hall eccentricity, Chris Cross is inventive, baffling and original. He really should be put in a strait-jacket – trouble is he can wriggle out of one just as quick as Houdini."
– Derek Smith, The Stage Magazine
"Amazing… The cheeky Geordie certainly enjoys himself at the audiences expense, and there is absolutely no malice in him…" 
– 4 Star Rating from Edinburgh Festivals Famous ' 3Weeks' Reviewers
"He spent quite a long time warming up the audience, his jokes were filthy and his ego was as big as his hair, which the audience loved. This guy was unique and spunky and he worked well with the audience.." 
– Carnival Divine Burlesque Review
"We spotted Chris Cross and his own special brand of contortion on MySpace; it freaked us out enough that we decided to promote him all over the site. We wish him the best of luck wierding out crowds across the nation." 
– Myspace UK
"A truly individual act."
– The Argus Magazine
"We thought he was great! The shoulder dislocation trick is gross but it amused the crowd!! He pulled strong audiences for both shows and was very good with the punters. Lots of autographs and chats with people in the street afterwards. It was a great success and Chris talked very highly of you!"
-The Big Splash
Previous Clients Include:
Formula One
Britains Got Talent
Greece's Got Talent
The World Buskers Festival
Le China Cabaret
Glastonbury Festival
Nozstock Festival
The Big Chill festival
Solfest Festival
Bomfest Festival
Kendall Calling Festival
Edinburgh Fringe Festival
Brighton Fringe festival
Ministry of Burlesque
Carnival UK Cruises
John Lewis
Durham Gala Theatre
Asda
Esso
Exxon Mobil
Diesel Clothing
Microsoft
Pontins
Haven
Npower
Virgin Atlantic
Sensatori
AA
Thomsons Platinum
Cambridge University
The Carphone Warehouse
Bahrain Formula One
Ripleys Believe it or Not
Nexus
Copthorne Hotels
Photos of Chris Cross – Walkabout Magician