The Chocolate Fountain – Food Entertainment | UK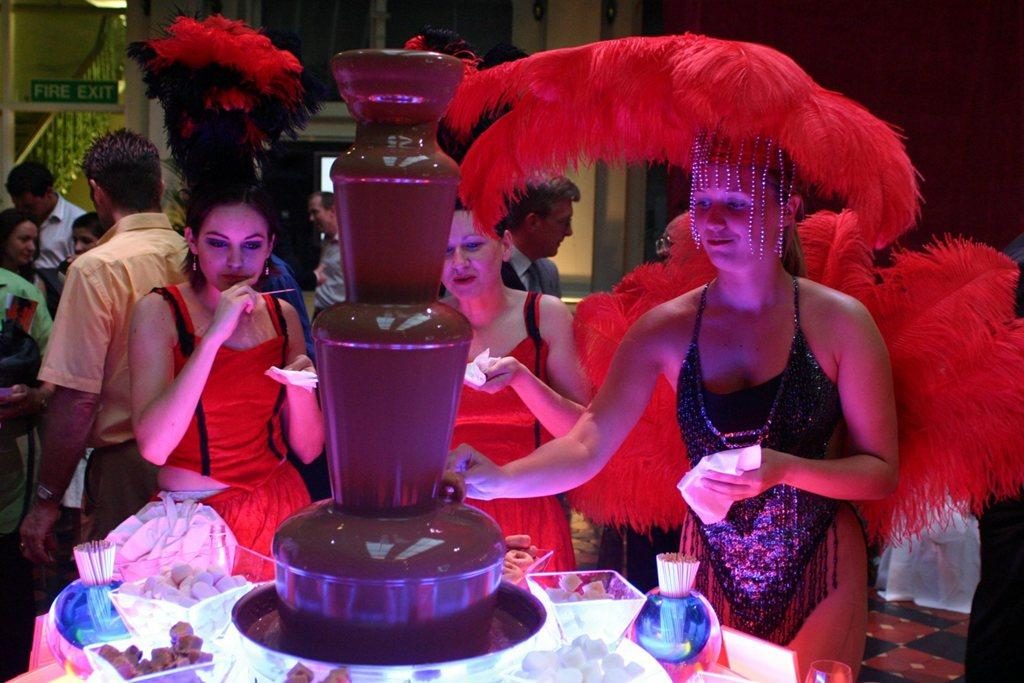 The Chocolate Fountain
Unrivalled in the UK, The Original Chocolate Fountain has put on the most glamorous chocolate fountain events for famous brands and high profile organisations.
Our specialists in chocolate fountain events provide peace of mind for event organisers. Our chocolate fountain ideas are second to none and our service is expertly executed by our professional and charming staff.Always innovative, and offering new ideas for special chocolate fountain events and any sized office party. Our chocolate fondues are fun for company or corporate events.
The Chocolate Fountain can design a specific fountain for your occasion be it a chocolate party theme, a branded event or a company social event. From chocolate party theme kits for corporate events to unique company social event ideas, we can take care of all of your chocolate fondue needs and create a luxury chocolate fountain experience. We set up chocolate fountain events across the UK which will give your invites an unforgettable experience.
Party goers can select from any of the goodies provided, dip them into the chocolate and savour the moment. Favourite dippers include strawberries, fresh cream profiteroles, mini-donuts, marshmallows, homemade Cornish fudge and exotic fruits. You can choose from a wide range of the finest Belgian couverture chocolates to run in the fountain – milk, milk hazelnut, dark or white – to name but a few.
This package includes a professional uniformed operator to set up and run the fountain throughout your event, superior Belgian chocolate and a delicious array of dipping foods tailored to your requirements. It is an all inclusive package with every aspect taken care of to ensure that the fountain is looking stunning at all times. The service is totally tailored to your event.
Technical Specification:
– The Chocolate Fountain Team will provide everything, including tables and cloths. Table size is 5ft x 9.5ft.
– It takes 2 hours to set up.
– Would arrive in a van with 2 staff.
The Client needs to provide:
– Parking
– 2 x 13 amp sockets within 5 metres of the location of the fountain.
– 2 x meals and soft drinks for the operators.
– Area out of sight of clients for spare food, and prep area.
Testimonials:
"A huge thank you for all the effort you put into the event last night to make it such a success – I was grateful for the way your guys turned up, knew the score in terms of set up, what they needed and what they had to work with & you took care of the whole thing."
– Charlie & the Chocolate Factory Premier
"A big thank you – as usual your team were helpful, efficient, friendly and good looking. The chocolate fountain party was a huge success and I had at least five people coming up to me telling me that they wanted one for their parties. You have a great product and service and we look forward to using you lots in the future."
– Kasimira Party Organisers
"Thank you so very much for all your help on the exclusive entertaining piece. The fountain looked wonderful."
– The Independent
"Our wedding day was made even more perfect by your chocolate fountain. It is still a talking point four months on!"
– Private Client
"This innovative company produces wonderful chocolate fountains on dazzling creative under-lit bases. Both the chocolate and the goodies to dip are delicious and the icing on the cake is the charming staff who man the chocolate fountains. In every way an excellent product."
– Admirable Crichton Caterers
"The service you provided us with was superb! It certainly was an excellent and delicious attraction."
– Winterfold House School
Previous Clients Include:
Narnia Film Premier
Charlie and The Chocolate Factory Film Premier
Big Brother
10 Downing Street
Entertainers Awards
The Independent
Admirable Crichton Caterers
Kasimira Party Organisers
Photos of The Chocolate Fountain