The Carpet Man – Comedy Performance | UK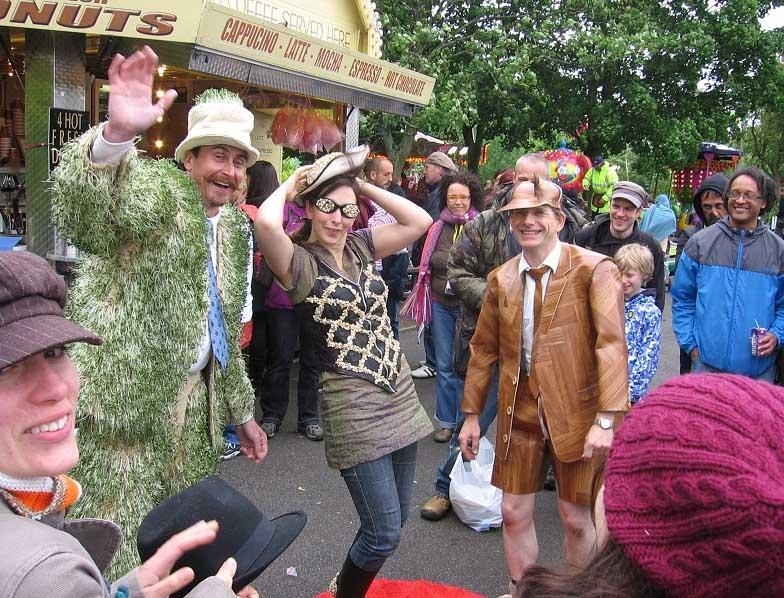 Visionary fashion guru The Carpet Man brings his inimitable 21st century couture creations to the catwalk of the pavements!
Having lived through the colossal highs and the bottomless lows of the retail carpet trade, The Carpet Man has seen the future of fashion. Drawing on the skills of the family's most resourceful nephew 'Lino Boy' – The Carpet Man and his side kick proudly present their astounding couture creations to the world, fresh from the garden shed studio.
Realising that the demands of the modern day snappy dresser are hopelessly unmet, The Carpet Man has excelled himself with a bespoke range of multi-functional flooring based clothing, easing the burden of lifes little problems with uncanny style. Seeking sales opportunities and valuable market research, the duo hit the streets before their fashion tour of Paris, Milan and Margate.
This is a beautifully surreal, improvisational walkabout or installation show that takes its lead from its audience. The public are actively encouraged to join in with Carpet Man and Lino Boy's enthusiastic presentation of their offbeat clothing by donning items for catwalk approval.
Accompanying the duo's charmingly cheeky sales patter and banter is an eclectic range of swinging lounge and fashion orientated music, a collapsible curtained changing room, a perspex slimming and fattening mirror, pull down blinds for jotting down those all important price lists and client measurements and not forgetting the Polaroid evidence for the clients scrap book!
Testimonials:
"I got more feedback about him than anyone else"
- Private Client
"One of the best shows I've seen this year"
- Glastonbury Festival
"Many thanks for bringing smiles to so many faces"
- City of London Festival
"An eccentric contribution to the festival. Many Thanks"
- National Theatre London
Previous Clients Include:
Amersfoort
Art et Scene
Bruges
Buitenkans Festival
Chassepierre Fete des artistes
Den Ham
Denekamp
Diepenheim Festival
Dornbirn Festival
Dubai DIFC
Dubai Mall
Photos of The Carpet Man