Caribbean: Rachel – Solo Steel Pan Player | UK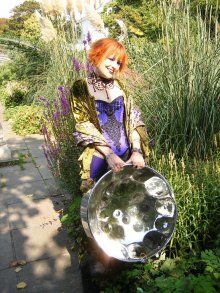 For twelve years Rachel has been delighting audiences throughout Britain and Europe with her eclectic mix of calypso, soca, pop, ska, jazz, reggae, MOR and popular classics. She performs extensively at a wide variety of corporate, civil and private functions.
Her repertoire ranges from the calypsos of Lord Kichener and Mighty Sparrow, through pop classics by Elvis, Abba and Mika, to the reggae of Bob Marley and Prince Buster. She performs with self-produced backing tracks which feature her own live multi-tracked pan-playing and gives the effect of a full steelband, which is especially valuable when space or budget is limited. The pan can be amplified in larger venues or for outdoor occasions.
Seasonal music and Christmas carols are available during the festive season.
Acoustic solo mostly classical, no backing sets can be arranged. Requests in advance are needed as Rachel will need to bring extra pans.
Uniquely for a pannist Rachel recieved a classical training at the prestigious Guildhall School of Music and holds an MA (music performance) from the City of London University, and has recently started research there, into steelband, for her doctoral thesis. Her unparalled credentials include winning the UK Steelpan Soloists Competition, and performing throughout Europe and the Caribbean, most notably in Trinidad (the birthplace of steelpan) when she was the first Briton to compete in the World Steelband Soloists Competition 1996 and was placed fourth overall. She has played with top British and Trinidadian steel orchestras and was the first European pannist to arrange for and conduct a top Trinidadian steel orchestra – The Skiffle Bunch (World Champions 2000).
Rachel will need a level playing area approx 5 foot square in the shade as the instrument might go out of tune if exposed to the sun. Shelter is also required to protect the instrument if it rains. Safe access to one electric socket is required, or if no power is available she can bring a fully charged battery operated "amp-can". This produces a quieter and slightly less of a good sound quality than the PA so is only used when there is no other option. When using the PA the pan may be mic'ed up and amplified – useful at large-scale events, outdoors or for dancing; it is not possible to mike the pan when using the amp-can.
Standard Length of Performance:
2 x 45 minute sets or 3 x 30 minute sets.
Previous Clients Include:
Debenhams
Eurotunnel
The British Army and Navy
Oakwood Theme Park (Wales)
The Cowpie Country Show
Wyevales Garden Centres
London Boat Show
Mosimanns
Pirate Galleon on the Thames
Royal Philharmonic Orchestra
London Sinfonietta
Meridian TVs "Three Minutes"
"Womans Hour"
BBC
"Music Matters"
Repertoire Includes:
All About You - McFly
Always On My Mind - Elvis
Amarillo - Sedaka (Tony Christie/Peter Kay)
Baggy Trousers - Madness
Bassman - Shadow*
Ben Lion - 3 Canal*
Birdhouse in Your Soul - They Might Be Giants
Bonanza Ska
California Dreaming - Phillips
Calypso for Gayna - anon.*
Cant Help Falling In Love... - Elvis
Carnival Is Fuh Woman - Ray Holman*
Cecilia - Simon/Garfunkel
Come Back Lisa - Trad. Jamaican
Copacabana - Manilow
Dancing Queen - Abba
Dr Manette - Ray Holman*
Electric Dreams - Oakey / Moroder
Elizabethan Reggae - Boris Gardiner
Eternal Flame - Hoffs-Steinberg-Kelly (Bangles)
Fire and Steel - Loquan*
Grace Kelly - Mika
Hawaii 5-0
Here Comes the Sun - Harrison
Here There and Everywhere - Lennon/McCartney
Hoots Mon (theres a moose loose aboot this hoose) - Lord Rockinghams Eleven
Horn/Stranger - Shadow*
Heroes of the Nation - Ray Holman*
I Dare You - Destra*
Ivory Coast High Life - Kaempfert
Island Medley -Trad*
Jam It With You - Ray Holman*
Jouvert Music - David Rudder*
Kingston Town - UB40
Lambada
Lifes Too Short - Holman*
Linstead Market - Trad. Jamaican*
Limbo Rock - Chubby Checker
Liming On The Corner - Len Boogsie Sharpe*
Madness - Prince Buster
Margie - Lord Kitchener*
My Pussin - Lord Kitchener*
No Woman No Cry - Bob Marley
Nuff Respect ct - David Rudder*
One Love - Bob Marley
One Super Power - Merchant*
O Trinidad - Ray Holman*
Pan On The Run - Ray Holman*
Panwoman Medley - Ray Holman*
Panyard Vibrations -Ray Holman*
Perfidia
Plenty Lovin - Ray Holman*
Rum and Coca Cola - Houdini/Belasco*
Sailor Band - Larry Harewood*
Sammy Dead-O! - Trad. Jamaican
Sandy Beach - Anon
Steelband Paradise - Ray Holman *
Spanish Eyes - Kaempfert
Sugar Boy - Patrice Roberts*
Sunchyme - Dario G
Summer Holiday - (Cliff Richard)
Super Trouper - Abba
Thank You for the Music - Abba
The Hammer - David Rudder*
Tico Tico - Abreu
Too Good To Be True
Three Little Birds - Bob Marley
Under The Sea - Ashman*
When the Going Gets Tough - Billy Ocean
Yellow Bird - Trad. Jamaican
Photos of Rachel