Candy Queens – Boutique Fairground Games | UK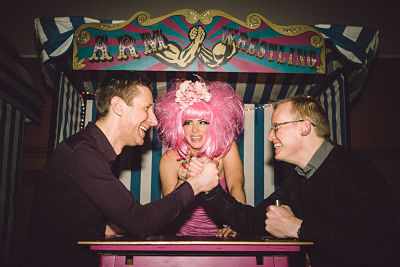 Our colourful boutique range of themed fairground games are perfect for indoor events, and help to create an interactive area where guests can play, test their skill and break the ice! Games are a great way to encourage people to mix, and everyone from kids to grandparents can take part. Each game is supervised by a costumed character who re-sets the games, encourages play and interacts with guests to create the most fun possible in a small area! Choose from: Tin Can Alley, Hoopla, Arm Wrestling (with referee!) and Coconut Shy.
Each game is housed in a traditional blue and white striped stall, with colourful rope lighting and fairground signage. Place these all together to create a fun,  interactive area with maximum visual impact and great photo opportunities. These lively fairground games are perfect ice breaker activities and excellent after dinner entertainment.
Set Times:
3 Hours Standard
Costume List:
Black and white circus costumes.
Pink cocktail dresses with/without wigs.
50's vintage dresses.
Special Requirements:
Fairground games need power for rope lighting.
Testimonials:
"I wanted to say a massive thank you for your games and usherettes at our event last Thursday. They were really enjoyed by all the guests and fitted in perfectly with the theme. The usherettes were really fun and interactive and we were really impressed! The set up and smooth running of the games was great."
Lauren (Event executive)
"Lots of positive feedback from the guests who said the entertainment was the best year so far! Expect a call from us again soon!"
Kate (Event organiser)
"Thank you for being so fabulous!! I wanted to say a huge thanks for being one of the star - and best looking - attractions of the day!!" Claire (private client)
Previous Clients Include:
-Thomas Cook
-National Trust
-Cartoon Network
-Debenhams
-Waitrose
-Lush cosmetics
-Lumiere London (Kings Cross)
-EF Language schools
-McLaren Formula 1
-Pan Am
Photos of Candy Queens