The Candy Canes – Human Canapé Trays | UK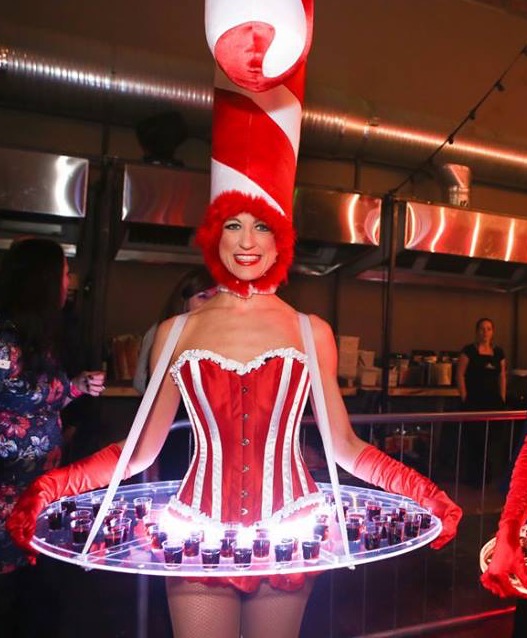 The Candy Canes are fabulous and fun in every way, we're sure you will agree!
Available Acts Include:
The Candy Canes
The Candy Canes are a fabulous choice for corporate events and stylish private parties Complete with their perfectly created perspex serving trays, the gorgeous girls can serve selections of sweets (which can be provided if required) canapés and more. Stylish and sophisticated, these girls are wonderful walkabout entertainment for any wedding, corporate event or private party, a different and show stopping approach to serving canapés.
The Candy Canes are also available in a purple costume with large top hats, which make them versatile and perfect for chocolate or Charlie and the Chocolate Factory themes.
Standard Length of Performance:
Set times for this act are usually 3 x 30 minutes.
Testimonials:
"Your girls were brilliant! They were punctual, professional, friendly (and very pretty which made the boys smile). Nothing was too much trouble for them."
– Chimneys Hospitality Ltd
"Both the Candy Cane girls and Rob's robots went down a treat and they were all very nice people that were easy to work with – thank you for your help in booking them."
-Future Image
"I and the whole Royal Variety team would like to pass on our sincerest thanks to you for taking part in this year's show. It was lovely to meet you all; you were all such a pleasure to deal with over the weekend, you guys did an amazing job! We're all still trying to get over a) those amazing feathers and b) the sight of seeing you all crouching down and climbing up and down the stairs in that theatre on your stilts!!"
– ITV
"Just a note to say thank you to you and all your team for all your hard work. The whole show was amazing from start to finish and the party was a huge success so thank you very much."
– Propaganda
"Our guests were truly amazed to see you. Your costumes were magnificent and I cannot express how grateful I am for doing such a magnificent job."
– Private Client
"The event went well. The Candy Canes did a wonderful job, and they are sooo nice and very easy going. Thank you."
– Quintessentially Casablanca
"Yes the event went really well…All the acts were great…"
– The Trafford Centre Ltd (via Contraband)
Previous Clients Include:
ITV
BBC
TOYOTA
MTV
Millers Vanguard
Bosch
Showstoppers Worldwide
Coventry City FC
Taylor Lynn Corporation
Leeds Law Society
Photos of The Candy Canes