Calamity Actors – Actors | UK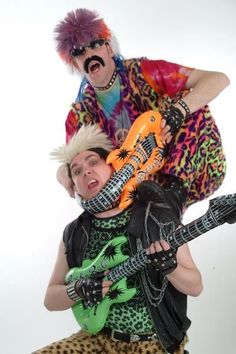 Dov is a trained actor with considerable experience as a compere, host, voice-over artist, writer and entertainer. Dov trained in Theatre (Acting) at Bretton Hall and has toured extensively within the holiday industry, creating and playing an array of colourful characters. He has compered for many corporate events companies and written and directed numerous shows for the entertainment industry.
His repertoire comprises many regional theatre productions and Theatre in Education tours. Dov co-ordinates corporate events and training programs and has worked as a hotel entertainer, actor, writer and director extensively. With this industry background and knowledge it is no wonder Dov can offer such a broad and professional range of services.
Acts Available Include:
Bards and Poets
Surprise is the key when 'Little and Large' of Shakespeares world prance onto the scene presenting personalised odes to the gathered audience. These larger than life characters will also mix n mingle amongst your guests creating song and revelry wherever they go! Why not use them as comedy Shakespearian doormen welcoming your guests as they arrive with a Hey Noney Noney and a No Trainers Here!?
Potted Histories
Three actors, a trunk of props and a stop watch. That is all that is required as we race through 500,000 years of hysterical history in thirty minutes. Companies, castles, stately homes, restoration sites, ruins, city centres. If there is a story to be told, we can tell it. Just give us the facts, the legends, the background, the truth or the fiction and we will write and perform a script that will have you howling with laughter and yelling encore!
Prohibition
It's the 1920s – The Prohibition Act has hit us all like a freight train without a driver! The only parties in town are the illegal ones. Don Gorgonzola can't resist a good bash and he can provide all the right ingredients… at a price: the bootlegging, the brothels and the casinos. He's so big in Chicago, even Capone's heavies give him a wide birth. You've done him some favours in the past and now you're 'family'.
The Don loves his 'family', and really hates disappointment, so when you discover an invitation to his party under your bowl of Linguini in Mamma Maria's, you know what your reply is going to be! Every evening hosted by the Don is an affair to remember. Hoodlums - wear your best pin stripes, brogues and felt hats. Flappers - wear your beaded, sparkly dresses; the Don likes his broads looking luscious. You will dine in refined splendour and enjoy classy entertainment in a secret location, where the outside world is kindly requested to stay away. Oh, and if the Cops bend your ear, you tell em zip. Capishe?
Testimonials:
"Emma was great, the kids loved her and she worked non stop for the two hours - I dont know where she gets her energy!"
- Private Client
"Thanks for providing another great entertainment! You certainly make it a pleasure to work with your company; it is so reassuring to get the same efficient, high standard of service and of performers every single time. Dov's team were excellent; very smooth and professional during the performance and very friendly and helpful in the planning stage. They incorporated a few bits of inside knowledge to great effect – ask Dov to tell you about Pigging!"
- Interconnector
"What can I say about Dov and the team? Always on time, brilliant costumes, work great with the client, totally trustworthy, clients love them, innovative, fun a pleasure to work with, the list could go on. I have worked with the team on a number of varied events now and they have ALWAYS exceeded my expectations. And what's more they are fun to work with and low maintenance too, vital when working with a stressed event manager behind the scenes!"
- MotivAction
Previous Clients Include:
11 Downing Street
Madonna and Guy Ritchie
Sultan of Brunei
Gwyneth Paltrow and Chris Martin
Trinny and Susannah
Latchme Mettal
TUI Holidays
Thomson Holidays
First Choice Holidays
MotivAction Events
Continental Drifts
Guiness World Records
Glaxo Smythe Kline
Deloitte
T- Mobile
Barclay Card
Price Waterhouse Cooper
Tesco
Photos of Calamity Actors