Brythoniaid Choir – Choir | North Wales | UK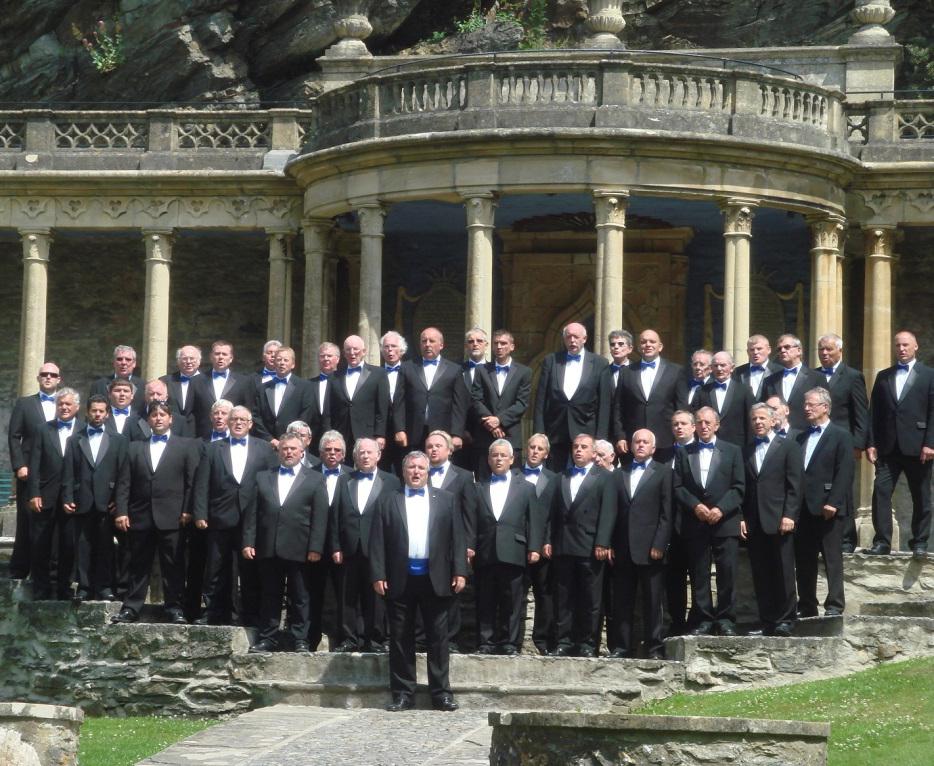 Brythoniaid Choir
The Brythoniaid choir are a 60 strong Male Voice Choir who can perform ' traditional ' items but also unexpected up to date material which has resulted in the Choir performing at Festival No6 every year since its inception, to huge audiences and rave reviews. They are not just a great choir to have for festivals and weddings but also a great addition to your corporate entertainment at corporate events.

At the Festival in 2014 the Choir performed with the Pet Shop Boys on stage, which Neil Tennant remarked, was the ' highlight of his career'. The Choir has numerous television appearances to their credit, have sung for the Queen and even appearing as an item on News night, a first for that programme.

The Choir will give a performance expected of a leading Welsh Male Voice Choir plus a lot more that you do not. The
Brythoniaid sound is a unique sound that you will not forget.
Standard Length Of Performance:

70 minutes approximately
Testimonials:

"Their (Pet Shop Boys)encore was a tour de force. Joined onstage by 40 of the brilliant, local
Brythoniaid Male Voice Choir, they launched into a stirring cover of the Village People's Go West. "That was undoubtedly a career highlight," Tennant said afterwards."
– The Telegraph
"But Saturday, or dare I say, the whole three days, surely belonged to 40 Welsh blokes dressed in their best, freshly-pressed white shirts, dinner jackets and bow ties. Yes, of course, I'm talking about the Brythoniaid male voice choir who delivered a set on Saturday night in the Piazza that had grown men crying as a mackerel-sky dusk settled over the square. The stout ranks of the choir delivered a repertoire that included O Sole Mio, Land of My Fathers (accompanied by their countrymen in the huge crowd) and Go West. The latter accompanied, either by pure chance or careful planning, by a stunning illuminated parade. Definitely one of those 'you had to be there' moments.On Sunday night, the men helped the Pet Shop Boys close the festival by joining them on stage for a final rendition of that song. And this time accompanied by every living being in Portmeirion."
– Northern Soul Magazine
"The Welsh may be famous for a lot of things (think rugby, Catherine Zeta Jones) , but in this particular area of North Wales, it was the voice of the Brythoniaid Male Voice Choir that bathed in the limelight. Performing at the Central Piazza within the heart of the Village, the 60-member choir delivered one of this year's most intimate, distinctive and special productions. Between a wonderful rendition of 'Kumbaya' and 'Land of my Fathers', the gentlemen of Brythoniaid performed one of their latest festival commissions, Chic's 'Good Times'. With baritones blending the traditional with the contemporary, the Brythoniaid Male Voice Choir produced a spectacle like no other, with punters balancing between stonewalls and perching upon the cliffs in their attempts to capture this unforgettable moment in this festival's folklore."
– Tusk Journal review
"Beck, Grumbling Fur, Steve Mason, Martha Reeves, Jon Hopkins, All We Are and more made this an unforgettable experience but the civic pride epitomised in the Brythoniaid Welsh Male Voice Choir, who, celebrating their 50th anniversary, delivered one of the sets of any summer at one of the most enjoyable festivals we've ever experienced."
– Getintothis Magazine

Previous Clients Include:
GQ Men of the Year
Festival No 6
BBC
S4C
Bahamian Tourist Department
European Trade Delegation ( Brussels)

Brythoniaid Choir are choir singers in North Wales, UK, perfect for bat mitzvah entertainment, bar mitzvah entertainment, hen party entertainment, stag do entertainment, stag party entertainment, wedding entertainment, wedding reception entertainment, asian wedding entertainment, festival entertainment, international event entertainment, conference entertainment, themed event entertainment, after dinner shows, party entertainment, birthday party entertainment, private parties, christening entertainment, christmas party entertainment, after dinner shows.

Photos of Brythoniaid Choir
Book Brythoniaid Choir
Want to book a performer, or just find out more? Give us a call on +44 (0)208 8291140 or use our online contact form via the button below.