Ceilidh Music: The Ceilidh Band – UK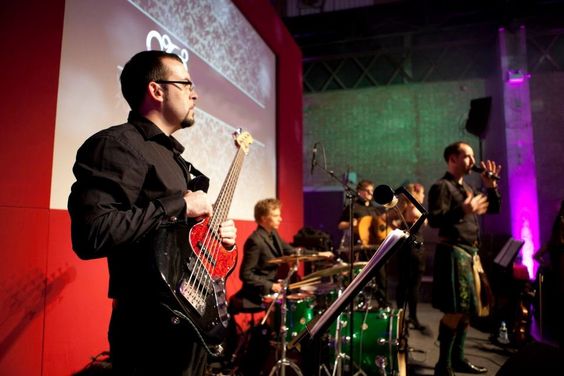 Look no further. The Ceildh Band are the real deal, the finest Ceilidh band in England!
The Ceilidh Band are a young and energetic five-piece Ceilidh band based in London and available for hire throughout the UK and beyond. They have an extensive repertoire of traditional folk dances suitable for people of all abilities. Absolutely no previous dancing experience is necessary to take part. The Ceilidh Bands caller has many years of experience in teaching party guests how to dance the steps and their unique mix of music from Ireland, Scotland and England is the perfect accompaniment.
The Ceilidh Bands music is arranged into sets of three, four or more tunes. Some of these tunes are as old as the hills, others are their own compositions. The line up of fiddle, flute, guitar, mandolin, drums, bagpipes, bodhran and double bass in various combinations gives the music an infectious appeal that will get you dancing in no time!
The Ceilidh Band are available for parties, weddings, birthdays and corporate events. They are also very happy to play to concert audiences although cant guarantee that they will stay in their seats…
Standard Length of Performance:
2 x 75 minute sets.
Testimonials:
"We had a wonderful time at our wedding and the guests are still talking about the ceilidh. You managed to get everyone dancing (except the girl with the broken leg!). Thanks so much for incorporating some of our choices - your Hava Nagila-ceilidh-style-mashup was particularly memorable. Great musicianship and professionalism. Your PA and lights were great too and thanks for helping with the bestmans video presentation!"
- The Choir BBC2
"You've got to smile at that kind of music, haven't you?"
- BBC Radio 3
"Just to say a big thanks for playing at our wedding, everyone had a great time and the Ceilidh really made the night!"
- Private client
"The party was a hit from start to finish. The organisation was impeccable and the calling professional and concise.To have such young and incredibly talented, thoroughly glossy musicians hosting the evening was a real treat!A party run by such a group couldnt fail to be a roaring good evening!"
- Eastern Opera
"Phenomenal New 'Trad' Band... features five absolutely phenomenal musicians, all classically trained, but totally dedicated to Irish traditional music. Recently featured on BBC Radio 3, they blasted the airwaves with their fast and furious driving rhythms and invigorating foot stomping tunes.
A great night of musical entertainment is guaranteed!"
- Hammersmith Irish Centre
Previous Clients Include:
Sting
Royal Academy of Music
Orange
Vodafone
NHS
Royal College of Music
Hèrmes
M.O.D.
South Bank Centre
Serco
ICI
Pearson Education
Herbert Smith LLP
RAF
National Geographic Society
Gareth Malone (BBCs The Choir)
Trinity College of Music
CBI
Repertoire Includes:
Sample Dance List
Gay Gordons
Dashing White Sergeant
Cumberland Square Eight
Orcadian Strip the Willow
Traditional Strip the Willow
Virginia Reel
Cumberland Reel
Canadian Barn Dance
Military Two-Step
Flying Scotsman
OXO Reel
Circassian Circle
St. Barnards Waltz
Eightsome Reel
Auld Lang Syne
Photos of The Ceilidh Band