Brierley – Face & Body Painter | UK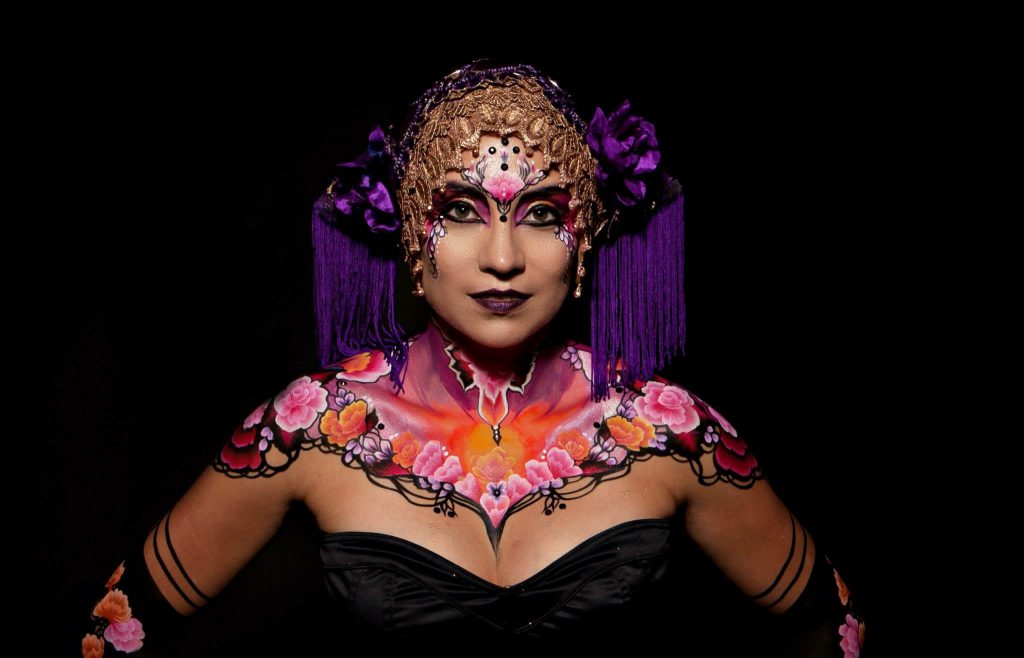 Brierley is an award winning face and body painter who creates beautiful designs at both private and corporate events. Her unique painting style combines intricate line work and bold colour blending, thrilling children and adults alike. Brierley is a member of The Face Painting Association, runs face painting training sessions in London and is an instructor at large scale face and body painting conferences and conventions across the UK.
Awards include:
House Of Glam Dolls - Professional Make up artist certification
2nd place winner - Paintopia 2016 - SFX body painter of the year 
1st place winner - Professional Beauty London 2016 - Professional Body Painting Award 
1st place winner - Olympia London 2015 - Professional Body Painting Award 
1st Place Winner - Professional Beauty London 2015 - Professional Body Painting Award
2nd Place - Paintopia 2015 - Body Painter of the year
Instructor - BAYFABA Convention 2014, San Francisco
Finalist - World Body Painting Festival, Austria, 2014 - Body Painting : brush & sponge category
1st Place Winner - Paintopia 2013 - Freehand Glitter Body Artist of the Year
1st Place Winner - FACE Painting Association - 2011 FACE Award 
Brierley has painted at events across England, Scotland and in Turkey. She loves to create delicate and whimsical designs for children and is especially interested in designing elaborate face and body art pieces for adults (and in particular those which incorporate the self - made prosthetics, headpieces and adornments that she creates in her studio).
Brierley's glitter tattoo pieces are created freehand using fine grade cosmetic glitters and gemstones applied to cosmetic glue drawn with fine brushes and nibs. She is happy to provide sketches of bespoke face and body painted designs, glitter tattoos, Colorini tattoos, headpieces and self –made stencils, prior to bookings, upon request.
Illusion Magazine featured Brierley's face and body painting in their summer 2013 issue, and have since published her articles on face painting techniques and have invited her to judge an international face painting competition. Brierley is friendly, well presented and passionate about her profession, and is regularly re-booked by clients.
Standard Length of Performance:
As requested. 15 minute break after each 3 hours. Half hour lunch break during an all-day booking.
Testimonials:
"Highly recommended. Impressive, creative and personalised each time. Very fitting with the theme of our party. Our general manager was very impressed. A big thank you to you - the team loved it."
- Trafalgar Hotel
"Brierley was extremely co-operative and flexible, had clearly researched before arrival and her face painting was top-notch. Feedback from the media parents there was excellent."
- Warner Bros
"We were absolutely delighted with Brierley's creativity and professionalism. Everyone loved their makeup - especially the bride-to-be. It got us all in the mood for the roller disco."
- Coutts Bank
"Excellent - you were so calm and professional throughout the day."
- Fulham Football Club
"Every successful party has something that binds everything together, for our daughter's party it was you. You added a different dimension to the party and it was great to see the adults taking part and having their faces and arms painted as well. From the first phone call to the end of the party you were helpful and polite. We cannot thank you enough, and we look forward to you being here at our daughter's next party."
-N20
Previous Clients Include:
H&M
Bibendum
The Trafalgar Hotel
Warner Music
Giraffe
Chelsea Football Club
Net-A-Porter
Westfield Stratford City
Lloyds Banking Group
Kerrang! Magazine
Xbox
Arsenal FC
20th Century Fox
Barclays
UBS
Game
The Hospital Club
Premiere Stealth Pictures
Think Big Comms
Walk The Walk
Save The Children
Waltham Forest Council
Thamesmead Trust
Bumpkins
Penguin
EBRD
Wella
Photos of Brierley