Brazilian: Jonathan & Leandra – Guitar & Vocals | UK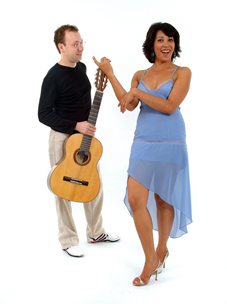 Beautiful Brazilian voice and guitar – bossa nova, samba and more. Bossa novas to melt your heart, sambas to make your feet feel like dancing and superb musicianship come together in this polished and experienced duo.
Leandra is from São Paulo, Brazil. Possessing a captivating voice full of warmth, vitality and Brazilian soul, she sings a repertoire encompassing not only classics of bossa nova but also sambas old and new, Brazilian and other popular music, jazz and beautiful original songs.
Leandra paid her dues singing in numerous bars and clubs in São Paulo's Vila Olímpia district, and developed her own beautiful style taking inspiration along the way from great names in Brazilian music such as Elis Regina, Tom Jobim, João Gilberto, Marisa Monte and Zizi Possi. In São Paulo and more recently in London, Leandra has worked both live and in the studio with numerous fine producers and performers including Ronaldo Rayol, Gui Tavares and Gustavo Marques. Alongside concert appearances she has also performed at private events in some of London's most exclusive five-star venues, including the Lanesborough Hotel, the Landmark Hotel and Kew Gardens.
Jonathan is a guitarist whose experience encompasses not only Brazilian music and jazz, but also classical music, folk, chamber and orchestral playing. His passion for Brazilian music has been nurtured through working alongside some of the finest Brazilian musicians in the UK, as well as working alongside Brazilian actors, directors, poets and other artists on many different projects.
He has performed at numerous major venues including the Royal Festival Hall and the Royal Albert Hall, and has performed and recorded with major artists including an appearance on Aled Jones' chart-topping 2004 release The Christmas Album. In 2004 he also performed with the LPO in the live performances of Howard Shore's Oscar-winning scores from The Lord of the Rings. Jonathan has performed for private events at numerous major venues including the Grosvenor House Hotel, the Brazilian Embassy, the Victoria & Albert Museum and Leeds Castle.
Repertoire Includes:
Classic Bossa Novas
Fotografia
Garota de Ipanema
Desafinado
Sambas
Adeus Batucada
Tico-tico no fubá
O Samba e O Tango
Contemporary
Don't Know Why
Your Love Is King
Killing Me Softly
Photos of Jonathan & Leandra