Bouncy Stilts – Power Bocker's | North West | UK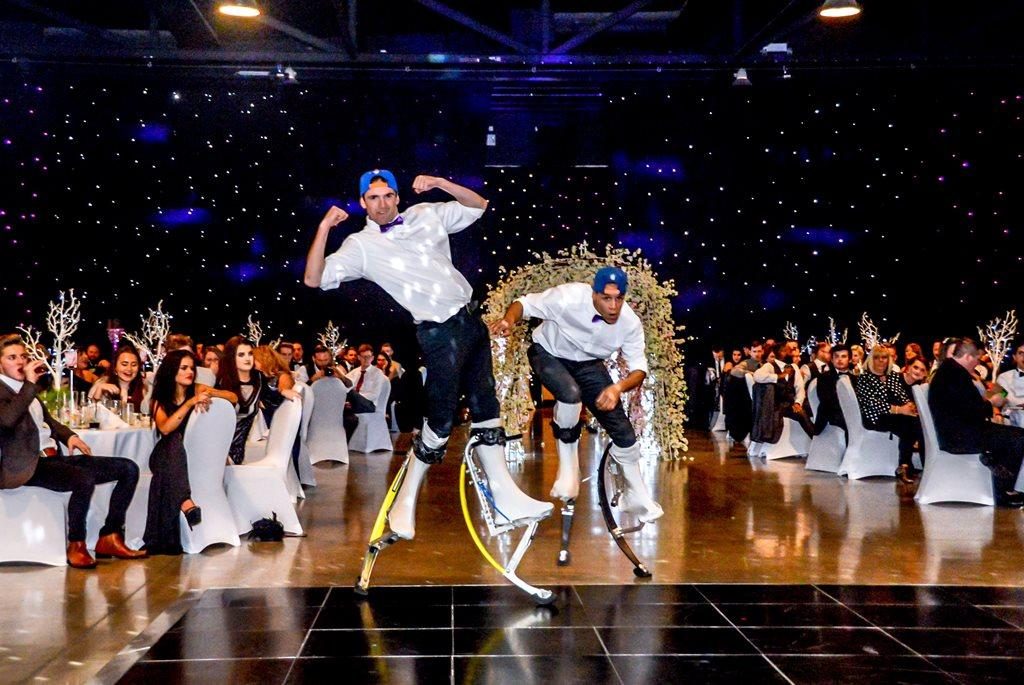 Bouncy Stilts Power Bocker's
Bouncy Stilts Power Bocker's can perform astonishing feats such as acrobatics, flips and even bounce over a car, all on stilts. The acts can also perform on foot just as many, if not more phenomenal tricks.
The Bouncy Stilts Power Bocker's are ideal for creating characters such as Mr Tumnus from Narnia. Their vast experience at fantastic events such as the opening and closing ceremonies of the Olympics proves that they are in a league of their own.

The acts can perform as soloists as well as part of a troupe choreographing unbelievable sequences that will leave any audience amazed.

Imagine one of the acts flipping onto the other's shoulders, balancing and then fire breathing just to finish the wow factor!

Whether you want to promote a new brand or simply to entertain guests as they arrive at your event, the Bouncy stilt Power Bocker's are the performers for you.

Costumes:

They can be provided to fit in with any theme. Some of their favourites include:

Superheros
Ninjas/Mortal Kombat.
Cirque
Dragons
Team Colours (Orange and Blues

Standard Length of Performance:
3 x 20 minute sets

Testimonials:

"The show was a swashbuckling success. To see this level of production quality and sheer acrobatic daring on a holiday park really sets a new on park entertainment bar."
– Park Resorts

"WOW!!! We loved these guys! They were cheeky chaps who came fully prepared with fire, stilts, gymnastics, balancing and really got involved in the Pirate characters. In fact they made us like them so much, instead of only choosing one (which meant we then had our 6 handed team) we want them both! We think we can direct them to be a great double act team within the group and will contribute to the show loads."
– Park Resorts

Photos of Bouncy Stilts Power Bocker's
Book Bouncy Stilts Power Bocker's
Want to book a performer, or just find out more? Give us a call on +44 (0)208 8291140 or use our online contact form via the button below.