Bond Theme – Stunt Performers | UK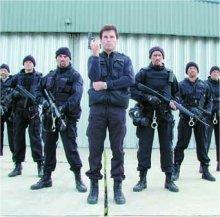 The stunt show will consist of armed guards interacting with your clients at the start of the evening. Then at the end of the MDS speech the stunt sequences will begin and will involve various stunning combat scenes. The finale will be a spectacular fire fight between James Bond in partnership with the SAS, and the Russians and their leader, eventually resulting in Bond saving the day and leaving your guests not shaken, but most definitely stirred!
Character List
Bond - Tuxedo Dr Evil - Long black coat, dark glasses PVC 'Pet' - Black figure hugging PVC bodysuit SAS - Full C.R.W siege kit, flakjackets) Spectre Agents - Full flektern pattern camo & webbing or orange suits Characters costumes can be adjusted to meet client requirements should this prove necessary.
Introduction:
At the start of the evening the guests are met by two SAS security guards dressed in black siege gear, checking names etc. They have a multitude of security equipment ranging from real body scanners to MP5 machine guns. They occasionally use personal radio comms. and check peoples credentials with company staff if required or they can be purely visual with no interaction with the guests. This introduces the guests to the feel of the event and gets them firmly into the 'Bondesque' theme.
Main Event:
Perhaps during the MDs speech there is a disturbance off stage, an approaching helicopter is heard, which hovers overhead briefly and is then followed by an audio explosion, security breach sirens go off. Suddenly, masked Spectre agents burst into the room and immediately take control. After securing the room, they inform their HQ that all is prepared and Dr Evil enters to his theme tune.
Dr Evil slowly walks past the guests with an occasional sinister glance towards various tables. He takes the stage and is just starting his dialogue when, a disturbance is seen/heard at the far end of the room. A black clad SAS commando enters the room and immediately engages the Spectre agents in a fire-fight, which is only stopped when Dr Evil threatens to shoot into the audience and the SAS commando gives up.
After a brief verbal interaction between Dr Evil and the SAS trooper, he is grabbed by the two henchmen, and a fast and furious SAS verses Spectre agents fight breaks out, with plenty of martial arts style fighting, flips and kicks etc. The Spectre agents are outclassed by the cream of the British army. The SAS attempt to get to Dr Evil on stage, but gets shot, but not killed, by the evil villain on approach.
Dr Evil is unhappy with this result and so with a click of his fingers, he calls for his 'Pet', a shapely PVC suited brunette, who walks provocatively through the audience to the sound of her own music. After eyeing up the SAS agent, she then engages him in a fight, and after a series of stunning moves, he is left at her mercy. Dr. Evil then explains why they are there and launches into a speech which has been especially written for the client company. This will involve many references to the company, its products, its personnel and its rivals, but will usually refer to one key person who has in someway refused to bow to the demands of Dr Evil. Due to this refusal the command is given to "waste him".
This is the cue for the entrance of Mr Bond, the Bond theme music is heard and Bond appears in a spotlight (freeze frame for a second) and then engages the Spectre agents in a stunning fire-fight and perhaps a fist fight, ending in all but Dr Evil and his pet dead. Dr Evil grabs the key person and attempts to leave with him, but he breaks free leaving a clear shot for Bond who kills the Spectre leader with a single shot. The PVC girl now tries to seduce Bond who responds in an embrace that results with her being cleverly handcuffed and led away. Bond then introduces himself, declares that usually it's for Queen and country but tonight it was for the client company.
Technical Specification:
The performers supply sound effects in the form of CDs or mini disc and will liaise with your sound crew to ensure cues etc. Please note the performers have full public liability insurance are fully trained and experienced stunt performers. They have been in business for over 20 years and have performed hundreds of Bond style stunts both in the U.K. and abroad. The use of pyrotechnics is strictly limited to non-license blank firing guns and the staff are fully trained in their professional use.
Testimonials:
"Thanks for recommending Wayne and the team as the focal point of our recognition dinner. The show they put on was highly impressive, very entertaining, and incredibly funny and went down really well with the audience. On top of this, the support and flexibility the team gave throughout the day was brilliant, from welcoming people at the gang plank, through to marching guests between parts of the location, and making announcements."
- Private Client
"Fast moving, colourful and very professional"
- Fools Paradise
"Thanks guys! Once again The Stunt Team saved the day!"
- NDS Promotions Ltd
"Arresting entertainment made the evening go with a bang!"
- Zap Enterprises
"The guys were fantastic – provided a great stunt, and worked the theme and messaging of the show in very well."
- House PR (via Contraband)
"The stunt team were BRILLIANT!!!!! They were far better than anything I had even hoped for and so, so, so easy to work with!!! They arranged all of their music / PA stuff with our booked band and so I had no unnecessary stress with that and then proceeded to be perfect for the rest of the evening!! Their presence during the drinks reception and the first part of the dinner was fantastic and had a lot of people talking……the act itself was brilliant and Dr Evil was fantastic at revealing 'the victim' and dealing with a couple of hecklers! The Daniel Craig lookalike was fantastic and I'm sure was in a lot of girls' photos afterwards!! As was the PVC girl in the boys' photos!!! I really can't compliment these guys enough – all of them were fantastic and really good fun to have around!! Please let them all know that we thought they were all great!!! Thanks."
- ADP Ltd (via Contraband)
Previous Clients Include:
Virgin
British Rail
Kensington Palace
Hampton Court
Tower Of London
Barclays Bank
Shell
British Airways
Pinewood Studios
Catch A Star - Dubai
Doha Film Festival - Qatar
Tescos
Sainsburys
Clinton Cards
When You Wish Upon A Star
Yahoo
Legal Business
Rentokil
New Look
KP
The Dorchester
The Intercontinental
The Hilton
Photos of Bond Stunt Performers